New responsive screen layout coming soon!
Pearl River Valley Railroad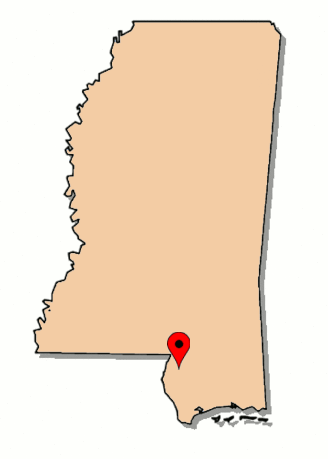 Perhaps notable for being one of Mississippi's shortest shortlines, the Pearl River Valley Railroad Company operated 4.69 miles of trackage from an interchange with the Norfolk Southern (ex Southern Rwy) at Nicholson, Ms, to Goodyear. Traffic was light and included forest products and chemicals. Incorporated in 1917 to build as far north as Columbia, Ms, the little pike only ever made it as far as Crosby -- 25 miles.
Motive Power
GE 65-ton (1949) / Picayune, Ms / 1972 / collection
Pearl River Valley #101
builder:

General Electric

model:

65 tonner

type:

B-B light switcher

built:

Sep 1949, GE# 30041

series:

unknown

engine:

two D17000 (8 cyls each)

notes:

_________
Nicholson, Ms / Aug 1958 / collection
Picayune, Ms / Sep 1988 / JCH
Picayune, Ms / Sep 1988 / JCH
Picayune, Ms / Sep 1988 / JCH
Picayune, Ms / Sep 1988 / JCH
Lagniappe
The diminutive Pearl River Valley existed throughout my childhood less than an hour from my home, yet I only made one trip with dad to see their lone 65 ton GE. One Saturday, we set out with my childhood friend Jay to find the line, and wound up spending an hour crawling all over the parked locomtive. It was idle in a classic Southern shortline servicing area: a broken-down siding with grass as high as the running boards. I remember my dad pointing out how clean the running gear of the little loco appeared. "That's on advantage to never clearing the right of way," he joked. I had thought the PRV had been abandoned, but roster shots of #101 as late as 2007 can be found on the Internet.
Links / Sources
Edward A. Lewis, American Shortline Railway Guide - Fifth Edition (Kalmbach, 1996) 243