Pearl River Valley Railroad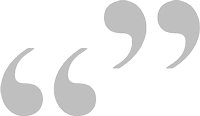 The Pearl River Valley is a 4-mile shortline running between its Norfolk Southern interchange at Nicholson and Goodyear (Picayune), Mississippi and the International Paper Company plant. The line, however, is now only a fraction of its former self which once served the lumber industry in this region of Southern Mississippi. The line is barely a railroad; it is more like a nature trail with rails and, unless one is aware that the PRV is there, most folks including railfans pass by the Nicholson-Picayune area without ever seeing it. The right-of-way resembles one of those old interurban or streetcar lines of yesteryear which is barely holding on and suffering from neglect. You may not find the PRV on many railroad maps, and some maps that do show it misidentify it with the Norfolk Southern's little-used NASA / Stennis branch. The Pearl River Valley Railroad could be classified as "old, rare, and obscure."
James Christopher, Jan 2001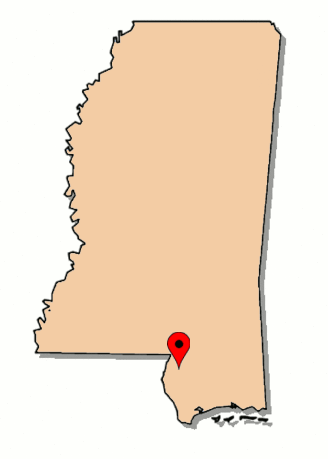 Notable for being one of Mississippi's shortest shortlines, the diminutive Pearl River Valley Railroad Company operated 4.69 miles of trackage from an interchange with the Southern Railway (later Norfolk Southern) at Nicholson to Goodyear, Mississippi. Incorporated in 1917 to build as far north as Columbia, Ms, (60 miles away) the little pike only ever made it as far as Crosby, about 25 miles. The last logging operations in the vicinity by 1938 and as such the railroad applied for permission to abandon operation of trackage rights on the line from Goodyear Junction to Rowlands, approximately 22.5 miles. The Goodyear Yellow Pine Company terminated its trackage agreement with the PRV in 1938, after which that section of line was removed. The remaining segment of the shortline from Nicholson to Goodyear was operated to service the Crosby Forest Products and various Crosby-owned industries in the western part of Picayune, including Arizona Chemicals. Traffic was light in these years but included forest products and chemicals. The little line was finally abandoned about 2007. As of 2009, some tracks remain in place but are unused and overgrown.
PRV route map / Mississippi Rails
PRV Official Guide ad / collection
Motive Power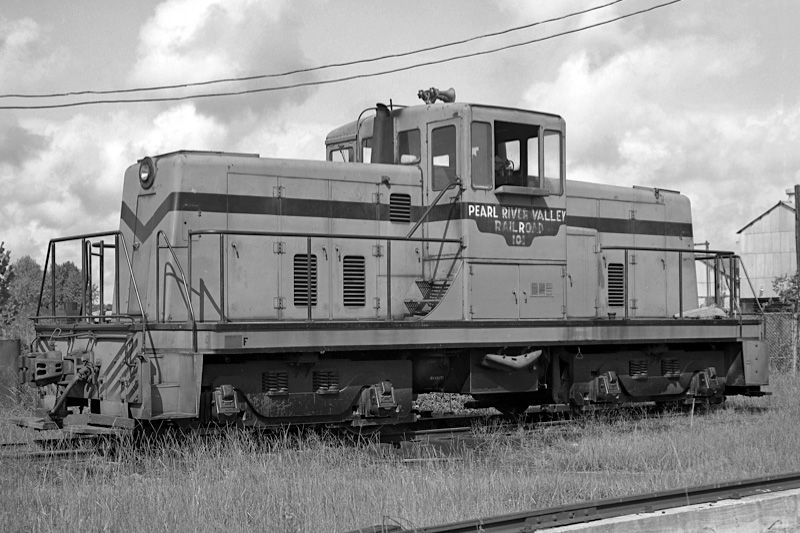 Picayune, Ms / 1972 / collection


Pearl River Valley #101
builder:

General Electric
model:

65 tonner
type:

B-B light switcher
built:

Sep 1949, GE# 30041
series:

________________
engine:

two D17000 (8 cyls each)
notes:
blt for Pearl River Valley
operated until line abandoned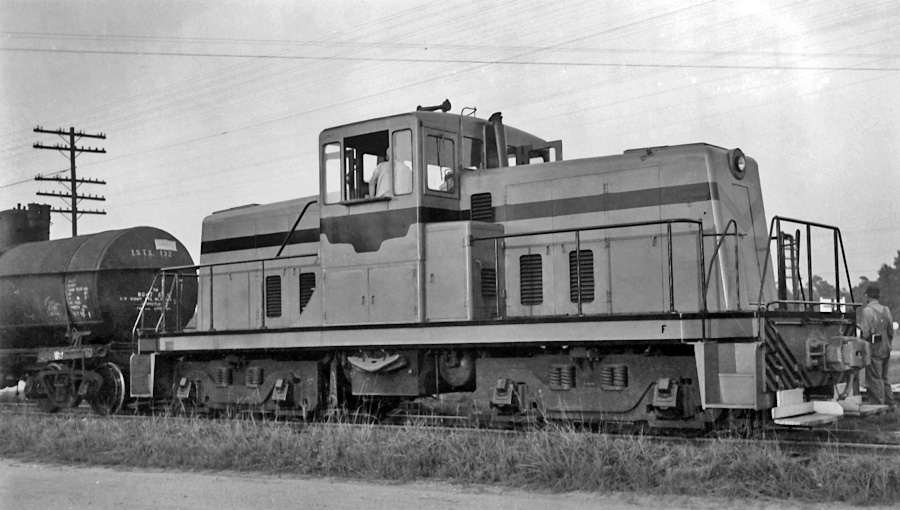 Nicholson, Ms / Aug 1958 / collection
Lagniappe
Picayune, Ms / Sep 1988 / JCH
Picayune, Ms / Sep 1988 / JCH
Picayune, Ms / Sep 1988 / JCH
Picayune, Ms / Sep 1988 / JCH

2008
The diminutive Pearl River Valley existed throughout my childhood less than an hour from my home, yet I only made one trip with dad to see their veteran 65 tonner GE. One Saturday, we set out with my friend Jay to find the line, only to wind up spending an hour crawling all over the parked locomtive. It was sitting idle for the weekend in what I know now is a classic Deep South shortline servicing area: a broken-down siding with grass as high as the running boards. I remember my dad pointing out just how clean the running gear of the little loco appeared. "That's one advantage of never clearing the right of way," he joked. I had thought the PRV had been abandoned years ago, but roster shots of #101 as late as 2007 can be found on the Internet.
Links / Sources
Edward A. Lewis, American Shortline Railway Guide - Fifth Edition (Kalmbach, 1996) 243
"The Pearl River Valley Railroad" by James Christopher - Jan 2009 Hattiesburg NRHS bulletin The Sandhouse
Mississippi Rails Pearl River Valley page
This page was updated on 2017-07-29