New responsive screen layout coming soon!
Mississippi Export Railroad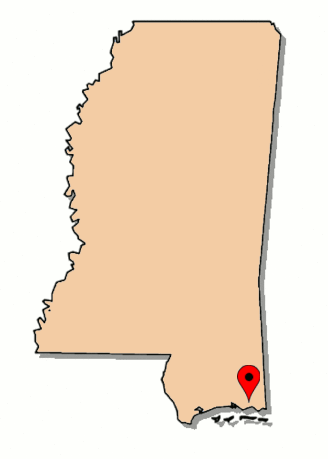 The 42-mile Gulf Coast shortline that is today known as the Mississippi Export Railroad has a long corporate history under a variety of names. First organized in 1894 as the Moss Point & Pascagoula, ever-expanding sales and additions produced the W. Denny Log Rod, the Pascagoula & Northern, the Pascagoula, Moss Point & Northern, the Alabama & Mississippi, and finally -- as incorporated in 1922 -- the pike became the Mississippi Export and was halved in length from 85 miles. Today the MSE interchanges with the Canadian National at Evanston, Ms and the CSX at Pascagoula. The engine house and offices are located in Moss Point.
Motive Power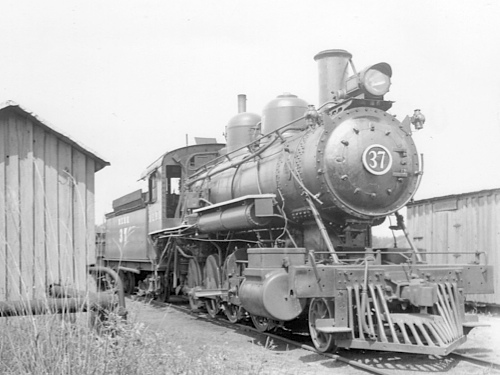 Moss Point, Ms / Jul 1937 / collection
Mississippi Export #37
builder:

Burnham, Williams & Co

arrangement:

2-8-0 Consolidation

built:

1906, BWC #29386

fuel:

coal/water

notes:

blt Pascagoula & Northern
to Atlanta & St Andrews Bay #201, 1936
to Gainsville Midland
to Georgia Car & Locomotive
to Nacional de Mexico #G-21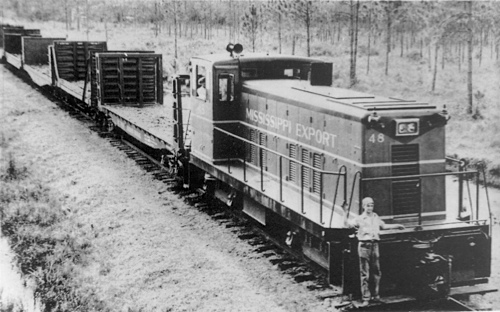 GE 70 ton / unknown / 1970 / collection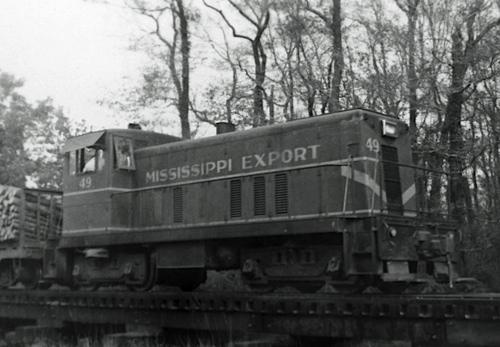 GE 70 ton / Moss Point, Ms / Aug 1958 / collection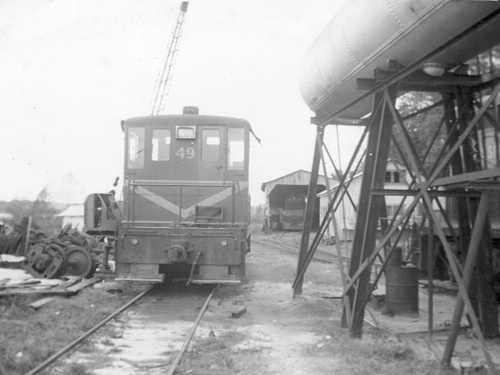 Moss Point, Ms / Dec 1958 / JCH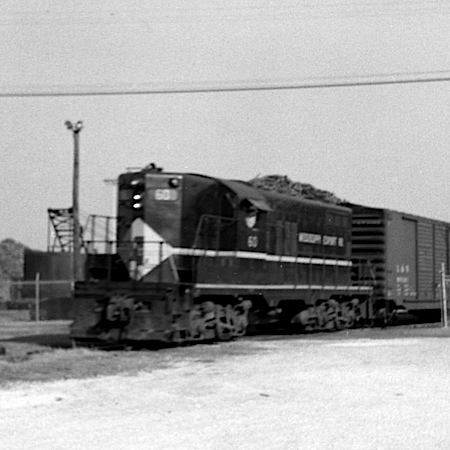 EMD GP9 (1957) / Pascagoula, Ms / Dec 1959 / JCH
Mississippi Export #60
builder:

Electro Motive Division

model:

GP9

type:

B-B road switcher

built:

Oct 1957, EMD #23985

series:

3436 produced 1954-59

engine:

EMD 567C (16 cyls. 1750 hp)

notes:

blt new for Mississippi Export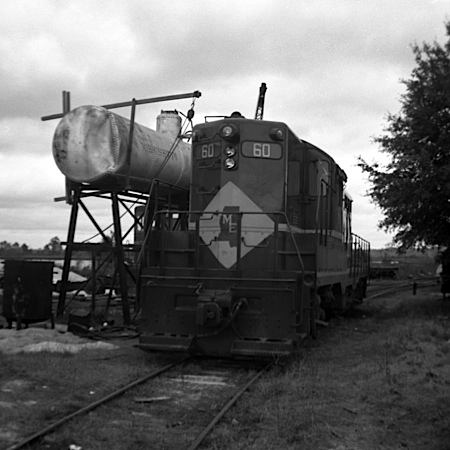 Moss Point, Ms / Dec 1958 / JCH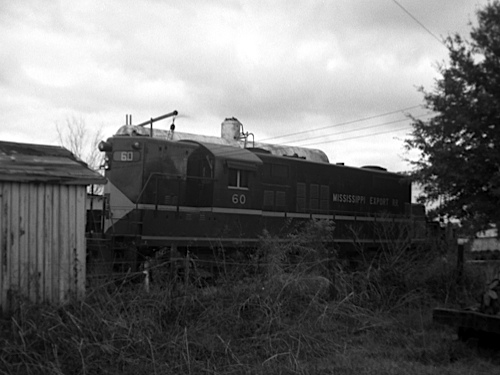 Moss Point, Ms / Dec 1958 / JCH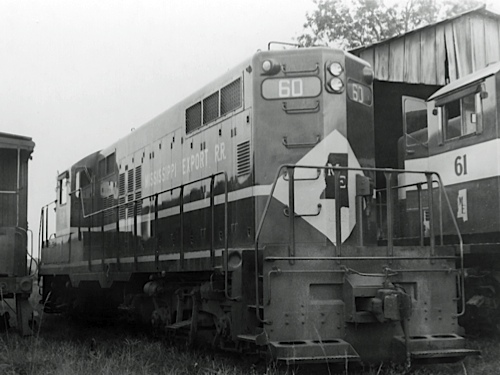 Moss Point, Ms / Aug 1958 / collection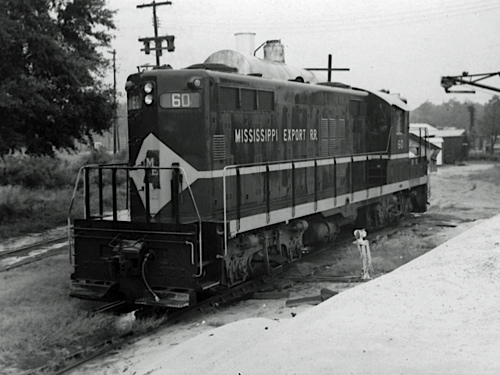 Pascagoula, Ms / Sep 1964 / collection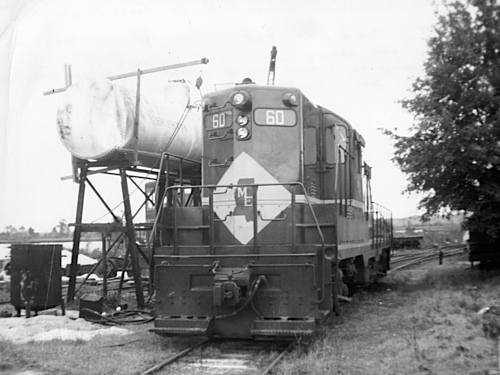 Moss Point, Ms / Dec 1958 / JCH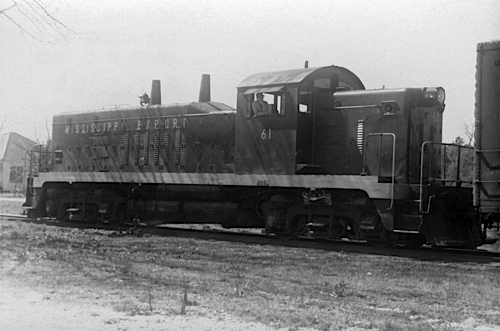 EMD NW5 (1947) / Kreole, Ms / Nov 1965 / collection
Mississippi Export #61
builder:

Electro Motive Division

model:

NW5

type:

B-B yard switcher

built:

Feb 1947, EMD #4149

series:

13 produced 1946-47

engine:

EMD 567B (12 cyls. 1000 hp)

notes:

blt Fort Street Union Depot #2
to Mississippi Export #61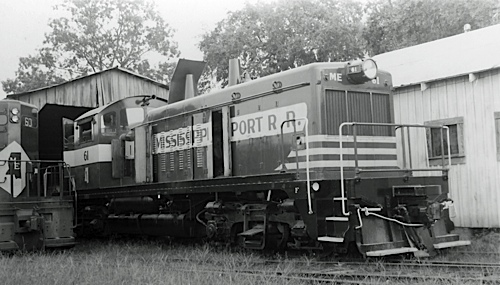 Moss Point, Ms / Aug 1958 / collection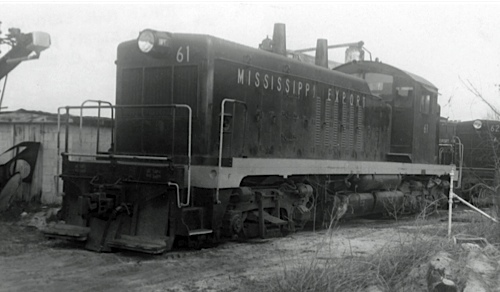 Moss Point, Ms / Nov 1964 / collection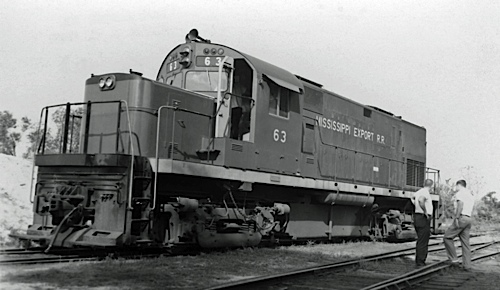 Alco C420 (1965) / Moss Point, Ms / May 1966 / collection
Mississippi Export #63
builder:

American Locomotive Company

model:

C420

type:

B-B road switcher

built:

Sep 1965, Alco #3425-01

series:

129 produced 1963-68

engine:

Alco 251C (12 cyls. 2000 hp)

notes:

blt new for Mississippi Export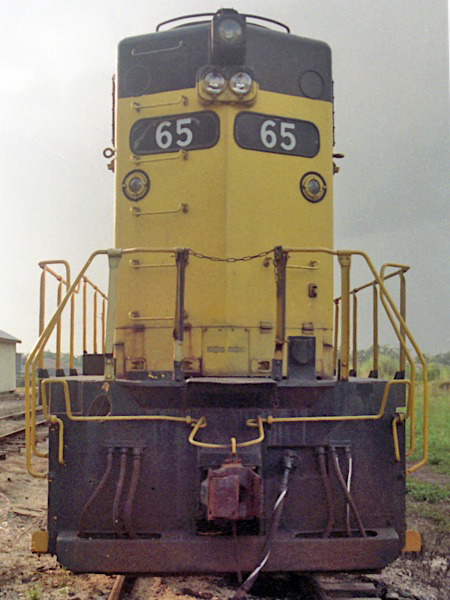 EMD GP38-2 (1975) / Moss Point, Ms / 1990 / RWH
Mississippi Export #65
builder:

Electro Motive Division

model:

GP38-2

type:

B-B road switcher

built:

Sep 1975, EMD #75645-1

series:

1801 produced 1972-87

engine:

EMD 645E (16 cyl. 2000 hp)

notes:

_________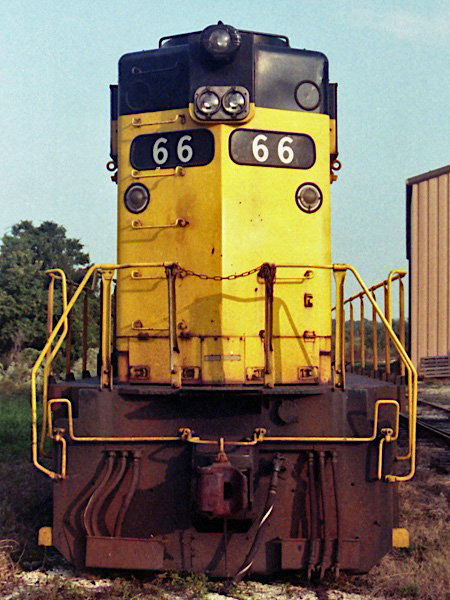 EMD GP38-2 (1979) / Moss Point, Ms / 1990 / RWH
Mississippi Export #66
builder:

Electro Motive Division

model:

GP38-2

type:

B-B road switcher

built:

Apr 1979, EMD #786213

series:

1801 produced 1972-87

engine:

EMD 645E (16 cyl. 2000 hp)

notes:

_________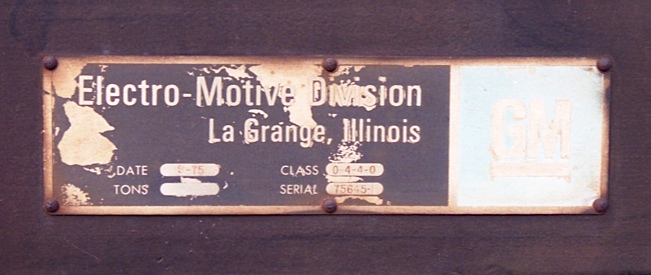 RWH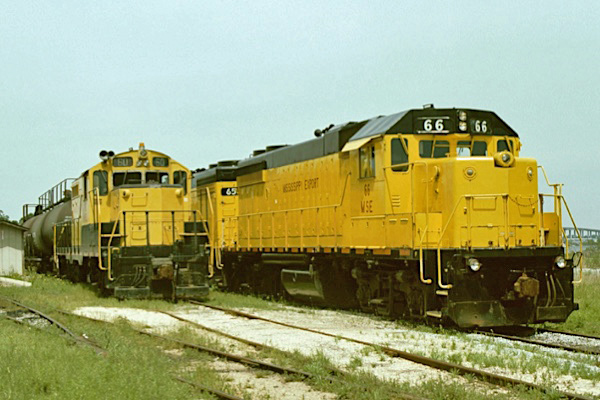 Moss Point, Ms / 1990 / RWH
Rolling Stock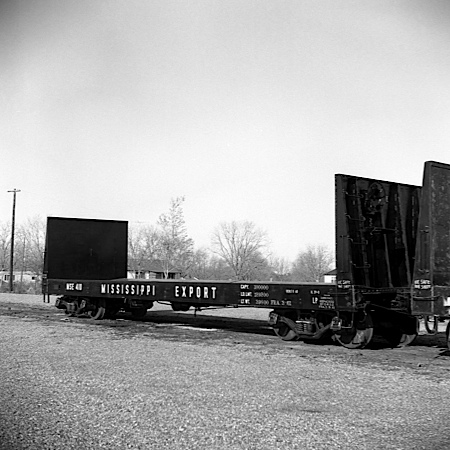 Wood rack / Evans, Ms / Mar 1961 / JCH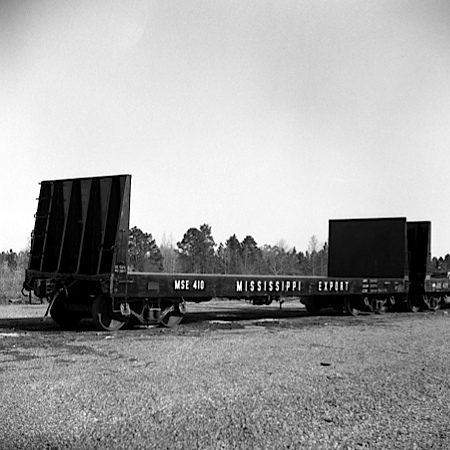 Evans, Ms / Mar 1961 / JCH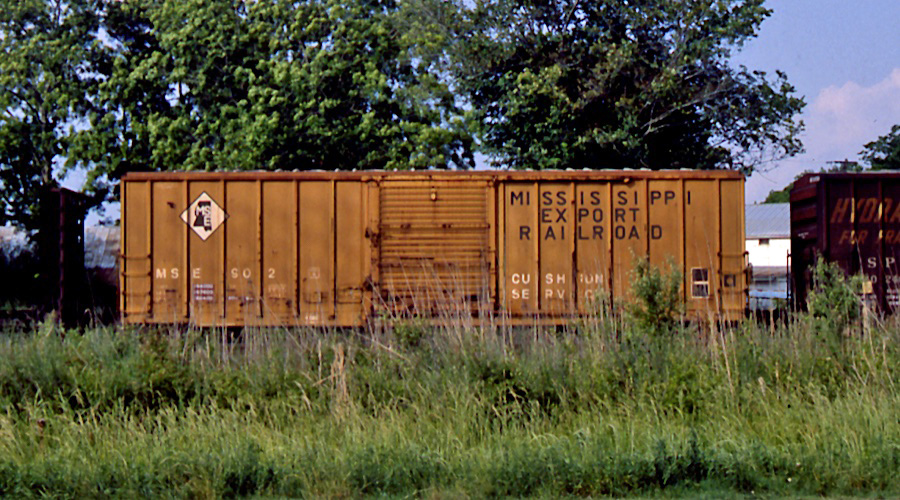 boxcar / Morrow, La / May 1987 / RWH
Locations
Moss Point, Ms / 1990 / RWH
Lagniappe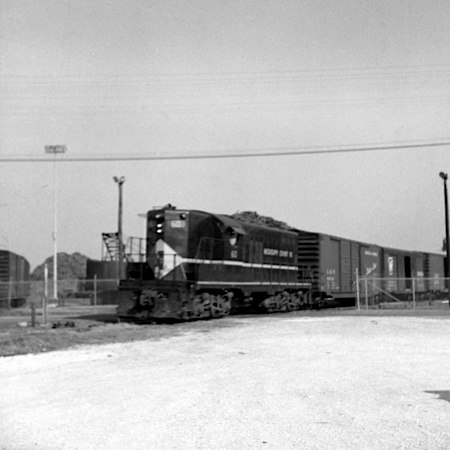 Pascagoula, Ms / Dec 1959 / JCH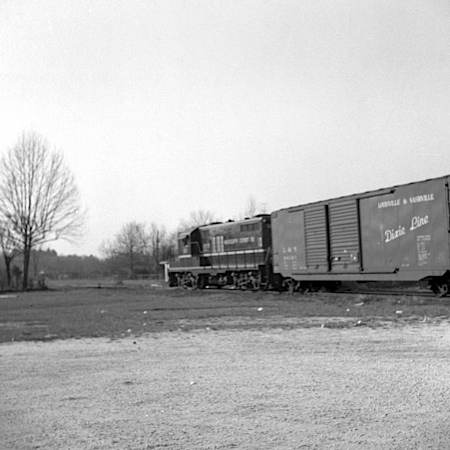 Pascagoula, Ms / Dec 1959 / JCH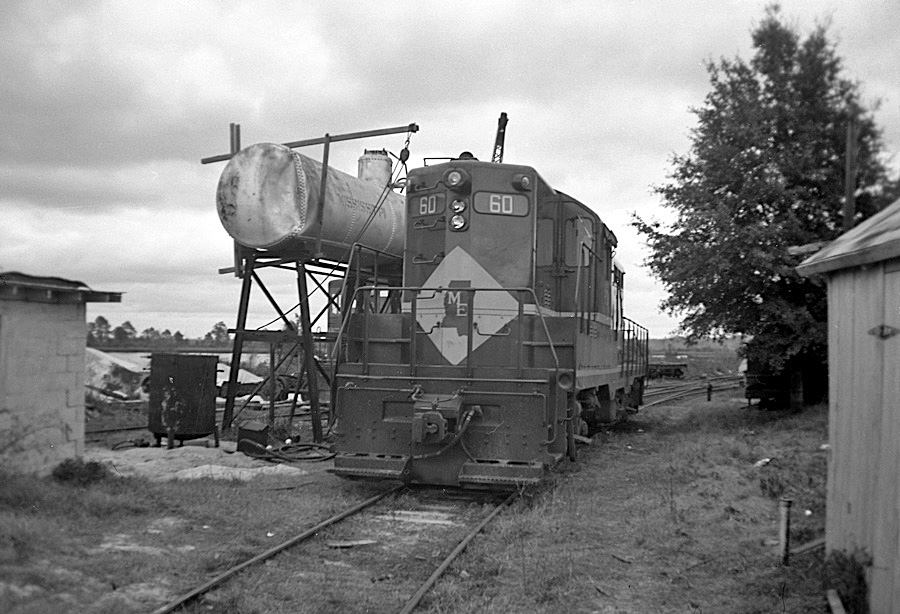 Moss Point, Ms / Dec 1958 / JCH
Links / Sources