Featured Regional
Norfolk Southern

Across the Albemarle Sound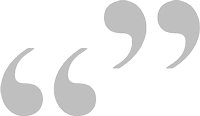 What would eventually become the first Norfolk Southern Railroad was chartered on January 20th, 1870 in North Carolina as the Elizabeth City and Norfolk Railroad. It was intended to run between its namesake cities, a distance of 46 miles. Construction did not begin until 1880. The track was completed on May 12th, 1881, and the first train from Norfolk to Elizabeth City ran on May 26th, 1881. The line was extended 27 miles southward to Edenton, NC in December 1881. The first train to Edenton ran on December 13th of that year.
Robert C. Reisweber, 2005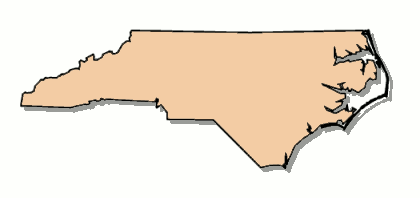 The Norfolk Southern Railway that existed until a Southern Railway merger in 1974 was the final form of a 600 mile railroad that survived several reorganizations and carried different names throughout its interesting history. The mainline extended south and west from Norfolk, Virginia, across the state line toward Raleigh, North Carolina, then southwest to its western terminus in Charlotte. Included in the mainline was an impressive 5 mile trestle across Albermarle Sound in eastern North Carolina and numerous built and leased branches. On January 1, 1974, the Norfolk Southern was merged into the Southern Railway System, which retired the Norfolk road's small fleet of Baldwin road switchers and merged its EMD power into the Southern corporate roster.
| | |
| --- | --- |
| HawkinsRails thanks railroad photographer Warren Calloway for use of his Norfolk Southern roster shots | |
Baldwin Motive Power
Baldwin Locomotive Works produced the AS-416 model road switcher for 5 years, turning out only 21 examples of the design between 1950-55. One unit went to Columbus & Greenville as #606, with three more sold to Savannah & Atlanta as #108-110. The remaining 17 units were all purchased by Norfolk Southern between 1951-55, with the road taking delivery of the last AS-416s produced. Featuring a 1600 horsepower 608A prime mover, the AS-416 rode on six-wheel trucks with a center idler axle between two traction motors.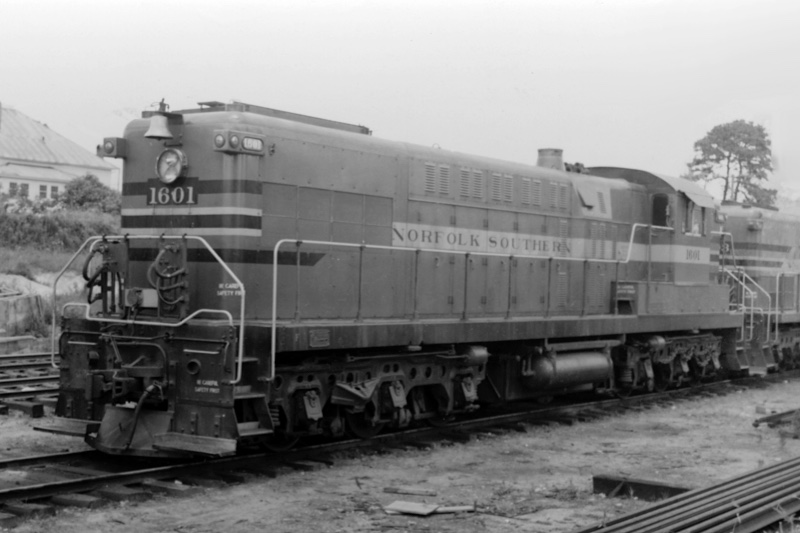 Star, NC / Jun 1957 / collection


Norfolk Southern #1601
builder:

Baldwin Locomotive Works
model:

AS416
type:

A1A-A1A road switcher
built:

May 1951, Baldwin #75237
series:

21 produced 1950-55
engine:

Baldwin 608A (8 cyls, 1600 hp)
notes:
1st of 5 in 1951 Baldwin order
retired by mid 1960s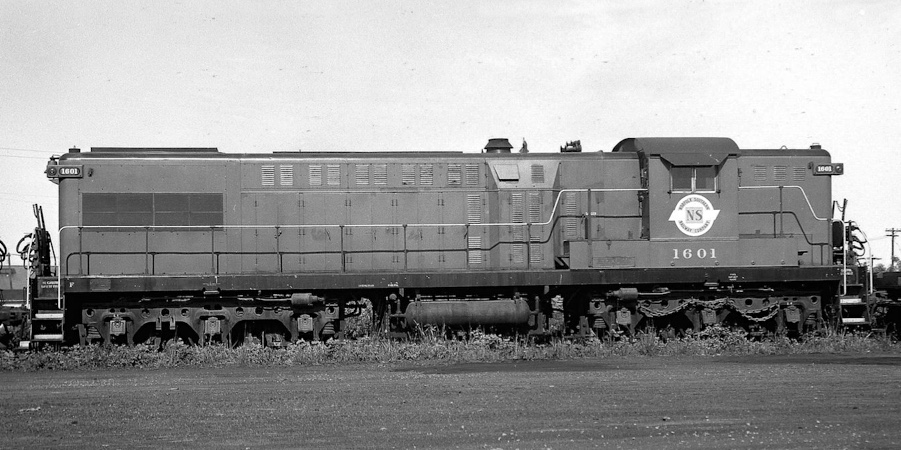 Norfolk, Va / Warren Calloway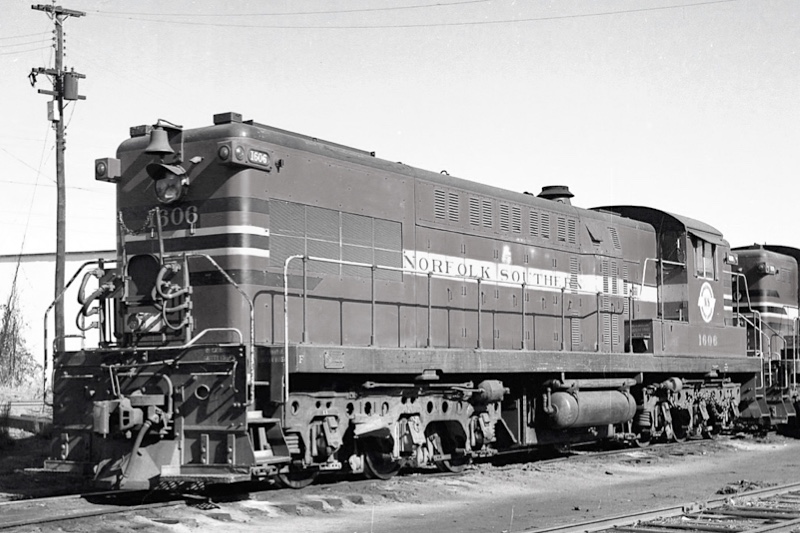 Raleigh, NC / Warren Calloway


Norfolk Southern #1606
builder:

Baldwin Locomotive Works
model:

AS416
type:

A1A-A1A road switcher
built:

Sep 1952, Baldwin #75699
series:

21 produced 1950-55
engine:

Baldwin 608A (8 cyls, 1600 hp)
notes:
1st of 5 in 1952 Baldwin order
retired 1974 at Southern Rwy merger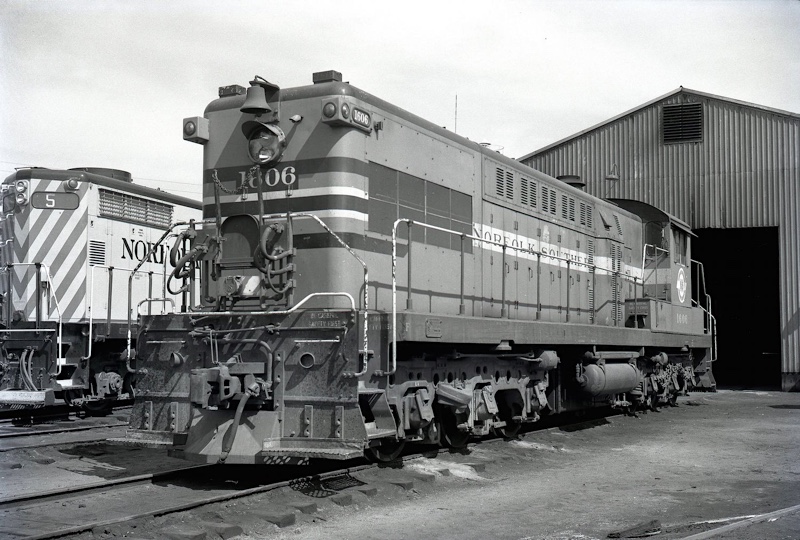 Raleigh, NC / Warren Calloway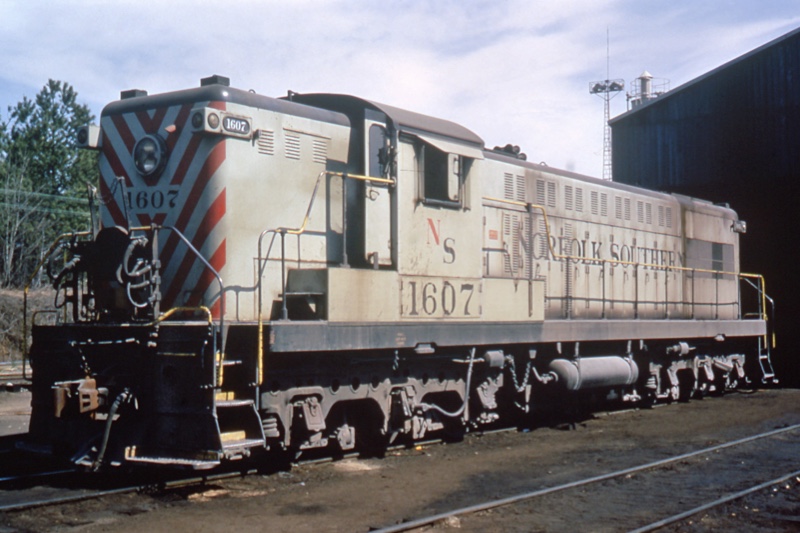 collection


Norfolk Southern #1607
builder:

Baldwin Locomotive Works
model:

AS416
type:

A1A-A1A road switcher
built:

Sep 1952, Baldwin #75721
series:

21 produced 1950-55
engine:

Baldwin 608A (8 cyls, 1600 hp)
notes:
2nd of 5 in 1952 Baldwin order
retired 1974 at Southern Rwy merger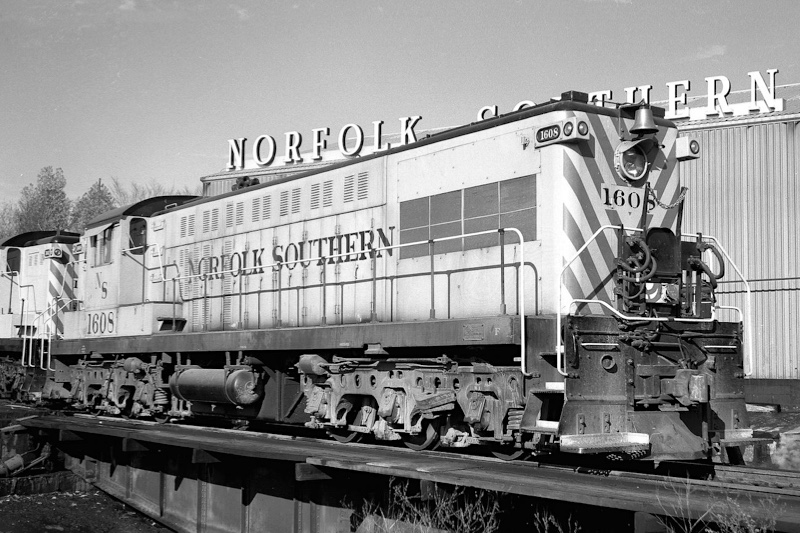 Raleigh, NC / Warren Calloway


Norfolk Southern #1608
builder:

Baldwin Locomotive Works
model:

AS416
type:

A1A-A1A road switcher
built:

Sep 1952, Baldwin #75722
series:

21 produced 1950-55
engine:

Baldwin 608A (8 cyls, 1600 hp)
notes:
3rd of 5 in 1952 Baldwin order
retired 1974 at Southern Rwy merger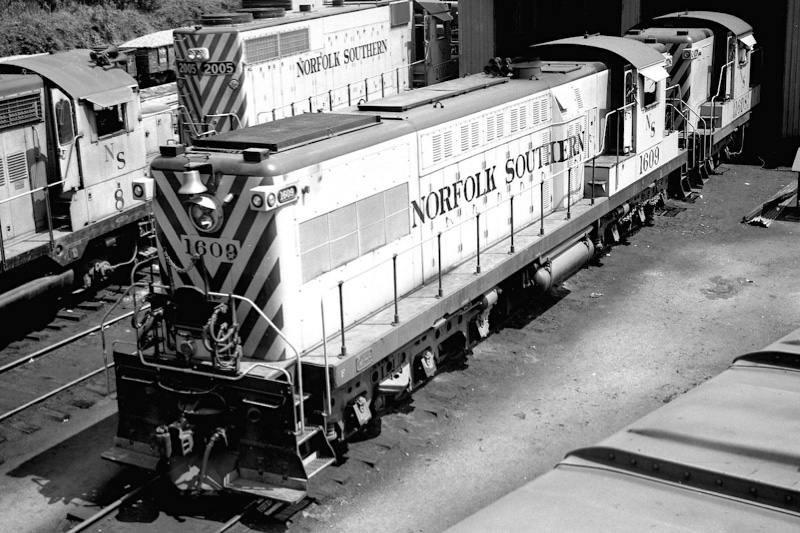 Raleigh, NC / Warren Calloway


Norfolk Southern #1609
builder:

Baldwin Locomotive Works
model:

AS416
type:

A1A-A1A road switcher
built:

Sep 1952, Baldwin #75723
series:

21 produced 1950-55
engine:

Baldwin 608A (8 cyls, 1600 hp)
notes:
4th of 5 in 1952 Baldwin order
retired 1974 at Southern Rwy merger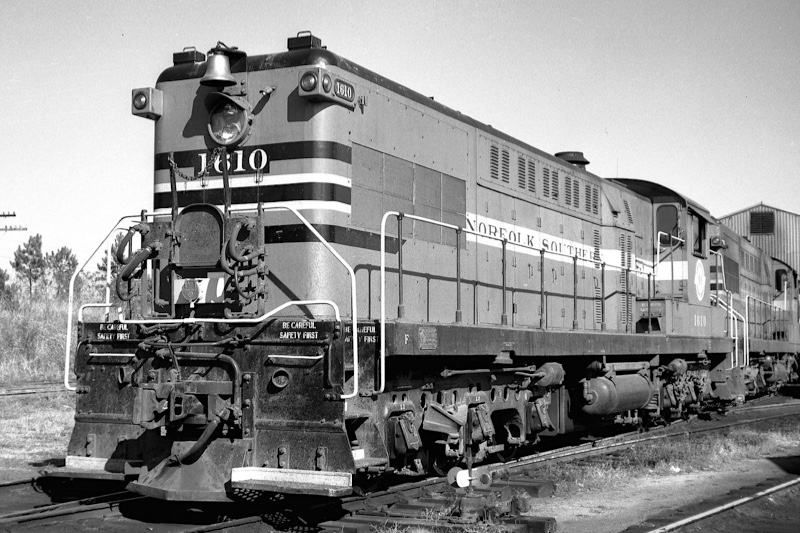 Raleigh, NC / Warren Calloway


Norfolk Southern #1610
builder:

Baldwin Locomotive Works
model:

AS416
type:

A1A-A1A road switcher
built:

Oct 1952, Baldwin #75724
series:

21 produced 1950-55
engine:

Baldwin 608A (8 cyls, 1600 hp)
notes:
5th of 5 in 1952 Baldwin order
retired 1974 at Southern Rwy merger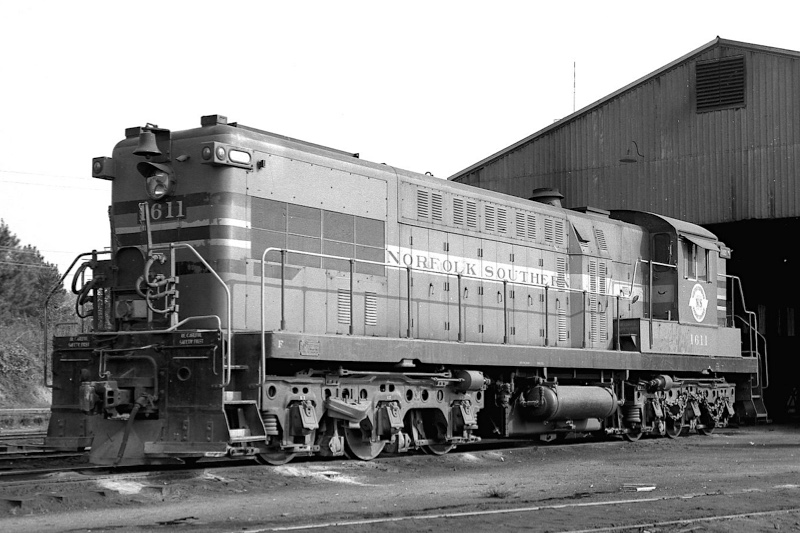 Raleigh, NC / Warren Calloway


Norfolk Southern #1611
builder:

Baldwin Locomotive Works
model:

AS416
type:

A1A-A1A road switcher
built:

Jan 1954, Baldwin #75938
series:

21 produced 1950-55
engine:

Baldwin 608A (8 cyls, 1600 hp)
notes:
1st of 3 in 1954 Baldwin order
retired 1974 at Southern Rwy merger
Raleigh, NC / Warren Calloway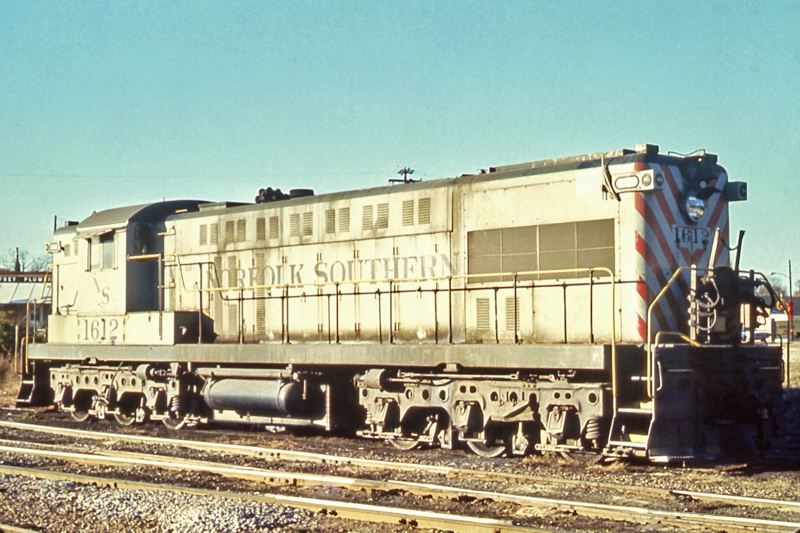 Fuqua Varina, NC / Dec 1972 / collection


Norfolk Southern #1612
builder:

Baldwin Locomotive Works
model:

AS416
type:

A1A-A1A road switcher
built:

Jan 1954, Baldwin #75939
series:

21 produced 1950-55
engine:

Baldwin 608A (8 cyls, 1600 hp)
notes:
2nd of 3 in 1954 Baldwin order
retired 1974 at Southern Rwy merger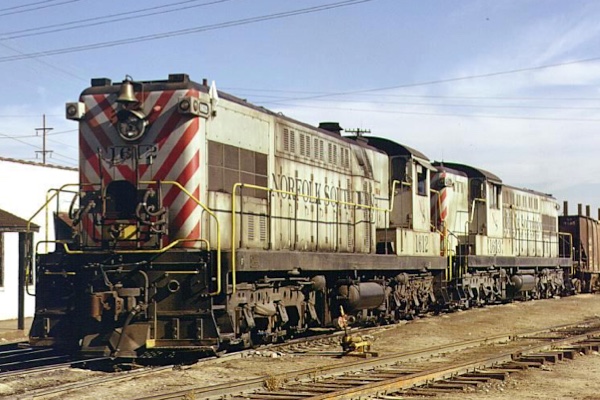 Raleigh, NC / 1974 / Warren Calloway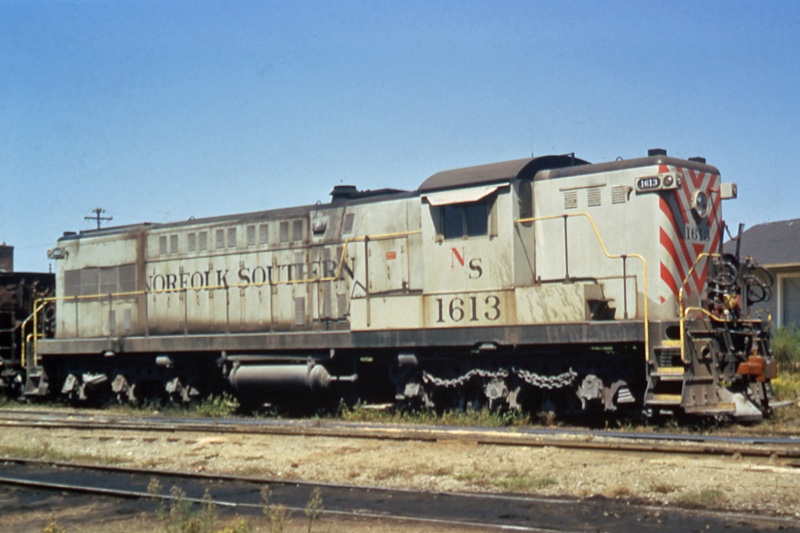 collection


Norfolk Southern #1613
builder:

Baldwin Locomotive Works
model:

AS416
type:

A1A-A1A road switcher
built:

Jan 1954, Baldwin #75940
series:

21 produced 1950-55
engine:

Baldwin 608A (8 cyls, 1600 hp)
notes:
3rd of 3 in 1954 Baldwin order
retired 1974 at Southern Rwy merger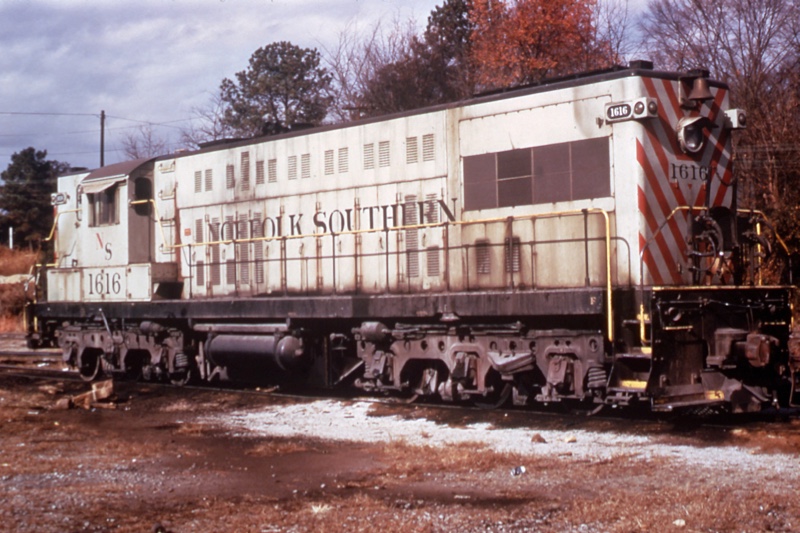 collection


Norfolk Southern #1616
builder:

Baldwin Locomotive Works
model:

AS416
type:

A1A-A1A road switcher
built:

Dec 1955, Baldwin #76112
series:

21 produced 1950-55
engine:

Baldwin 608A (8 cyls, 1600 hp)
notes:
3rd of 4 in 1955 final Baldwin order
higher hoods and last with GE elec gear
retired 1974 at Southern Rwy merger
donated to North Carolina Trans Museum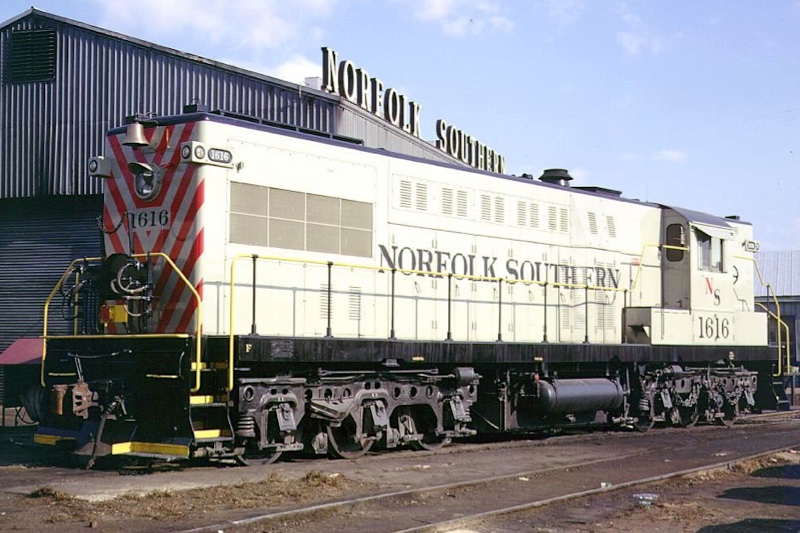 Raleigh, NC / 1969 / Warren Calloway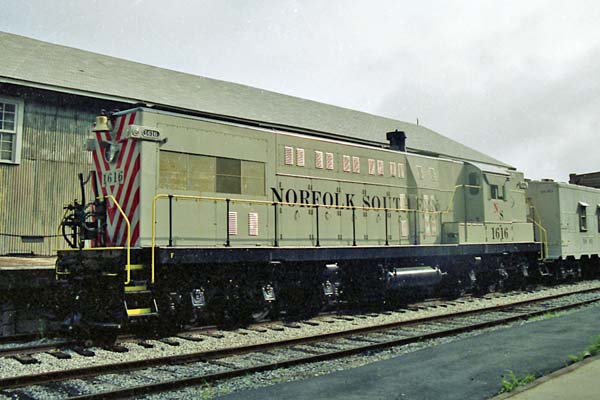 Spencer, NC / Jun 1991 / JCH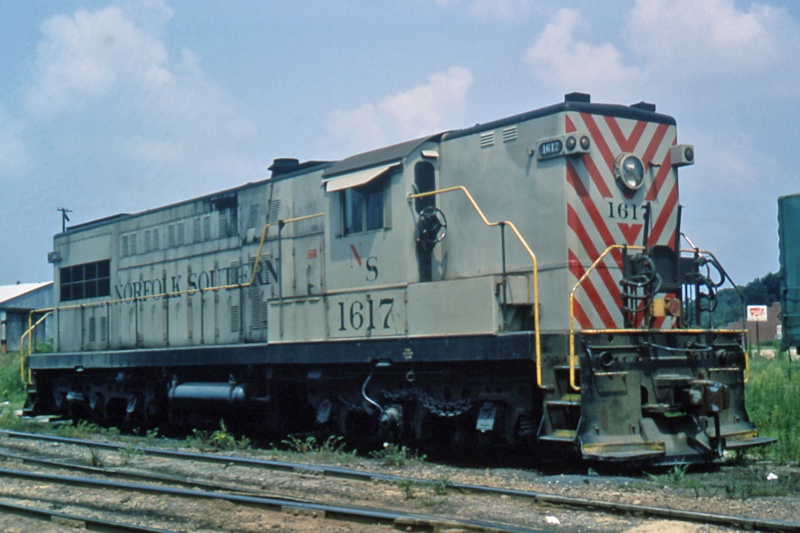 collection


Norfolk Southern #1617
builder:

Baldwin Locomotive Works
model:

AS416
type:

A1A-A1A road switcher
built:

Dec 1955, Baldwin #76114
series:

21 produced 1950-55
engine:

Baldwin 608A (8 cyls, 1600 hp)
notes:
3rd of 4 in 1955 final Baldwin order
higher hoods and last with GE elec gear
retired 1974 at Southern Rwy merger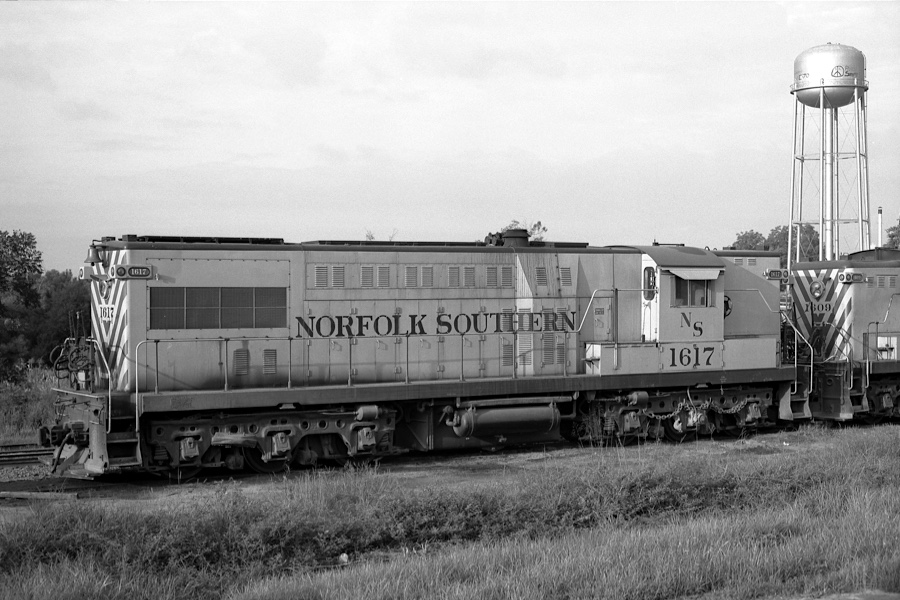 collection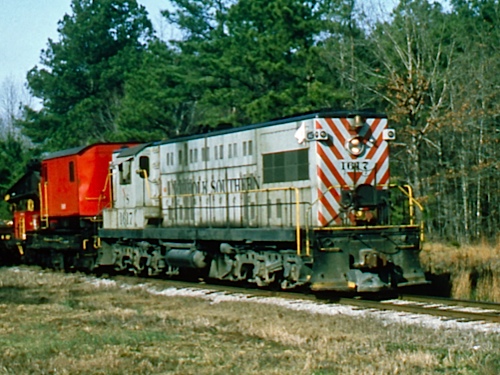 Stantonsburg, NC / Dec 1972 / collection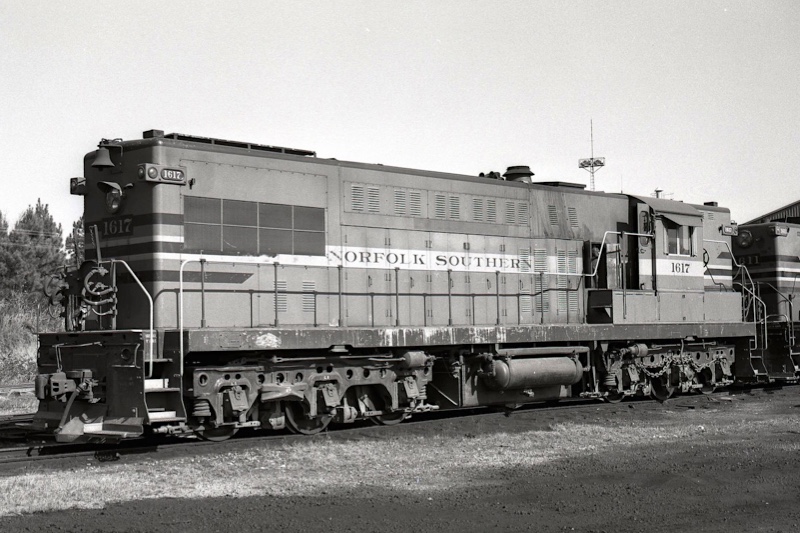 Raleigh, NC / Nov 1967 / Warren Calloway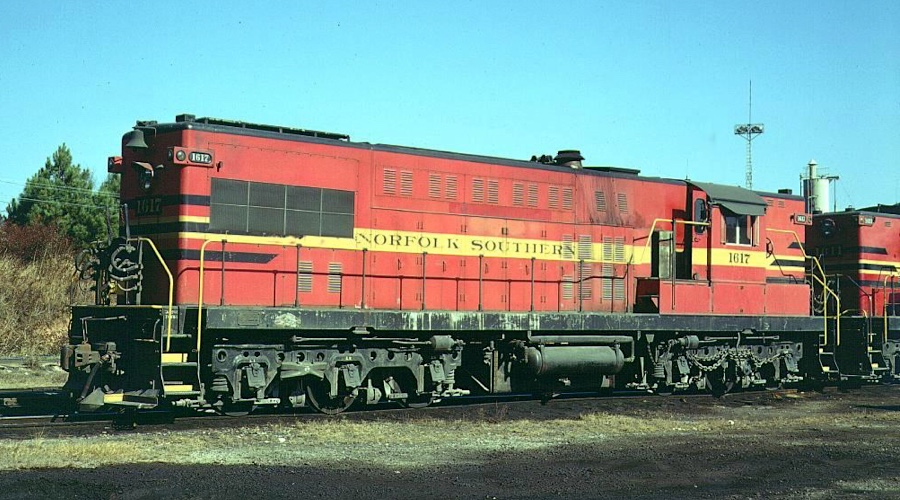 Raleigh, NC / Nov 1967 / Warren Calloway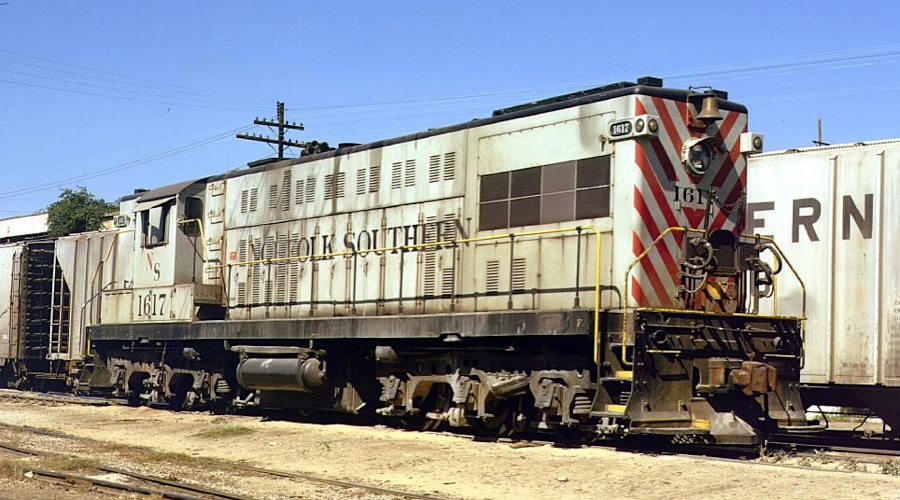 Raleigh, NC / 1973 / Warren Calloway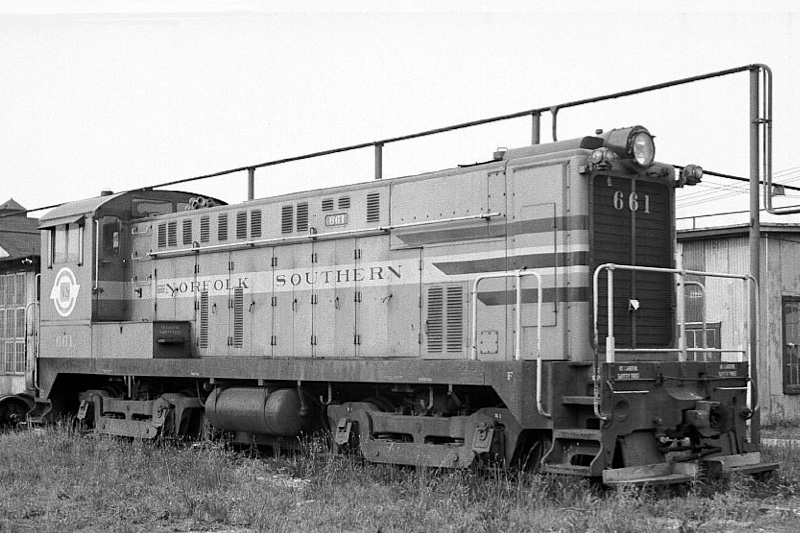 Carolina Junction, NC / May 1964 / Warren Calloway


Norfolk Southern #661
builder:

Baldwin Locomotive Works
model:

DS-4-4-660
type:

B-B yard switcher
built:

Jan 1947, Baldwin #73361
series:

139 produced 1946-49
engine:

Baldwin 606NA (660 hp)
notes:
1 of 3 in 1947 Baldwin order
retired by mid 1960s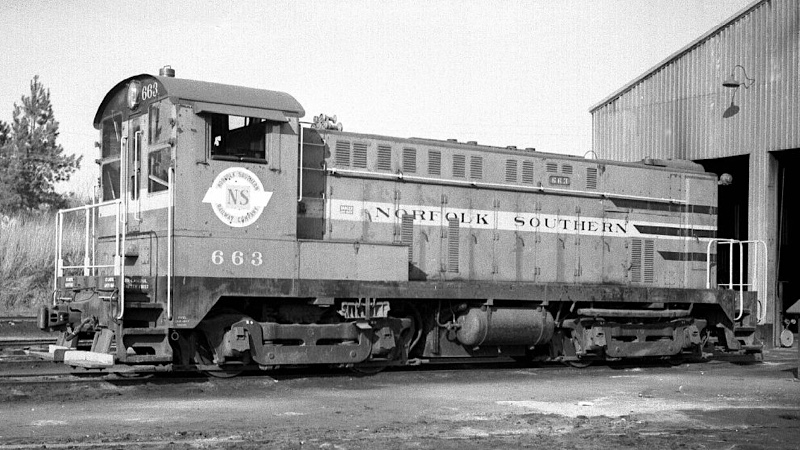 Raleigh, NC / Dec 1963 / Warren Calloway


Norfolk Southern #663
builder:

Baldwin Locomotive Works
model:

DS-4-4-660
type:

B-B yard switcher
built:

Jan 1947, Baldwin #73361
series:

139 produced 1946-49
engine:

Baldwin 606NA (660 hp)
notes:
1 of 3 in 1947 Baldwin order
retired by mid 1960s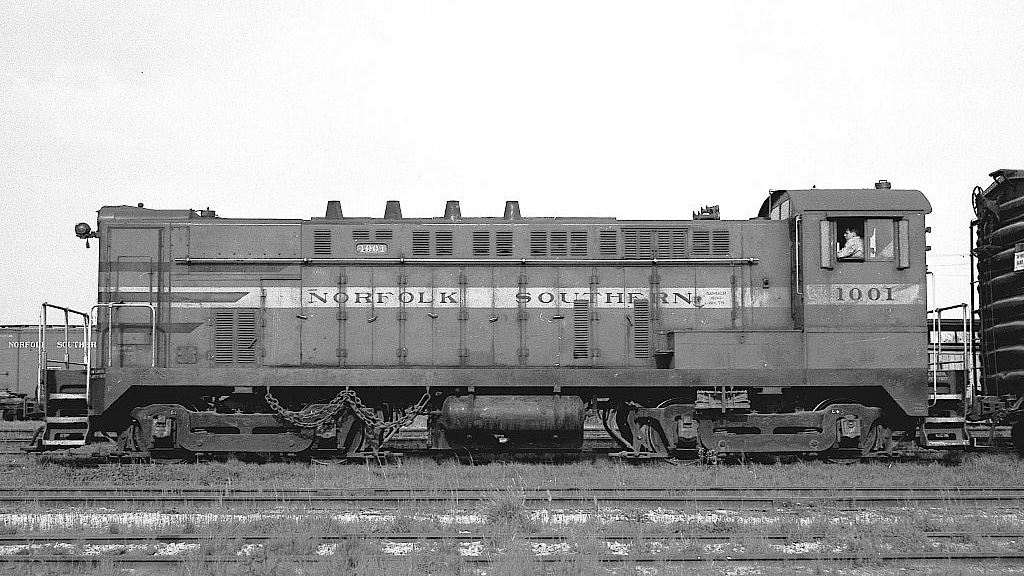 Carolina Junction, NC / April 1963 / Warren Calloway


Norfolk Southern #1001
builder:

Baldwin Locomotive Works
model:

DS-4-4-1000
type:

B-B yard switcher
built:

Jan 1947, Baldwin #72832
series:

56 produced 1946-48
engine:

Baldwin 608NA (1000 hp)
notes:
1 of 2 in 1947 Baldwin order
retired by mid 1960s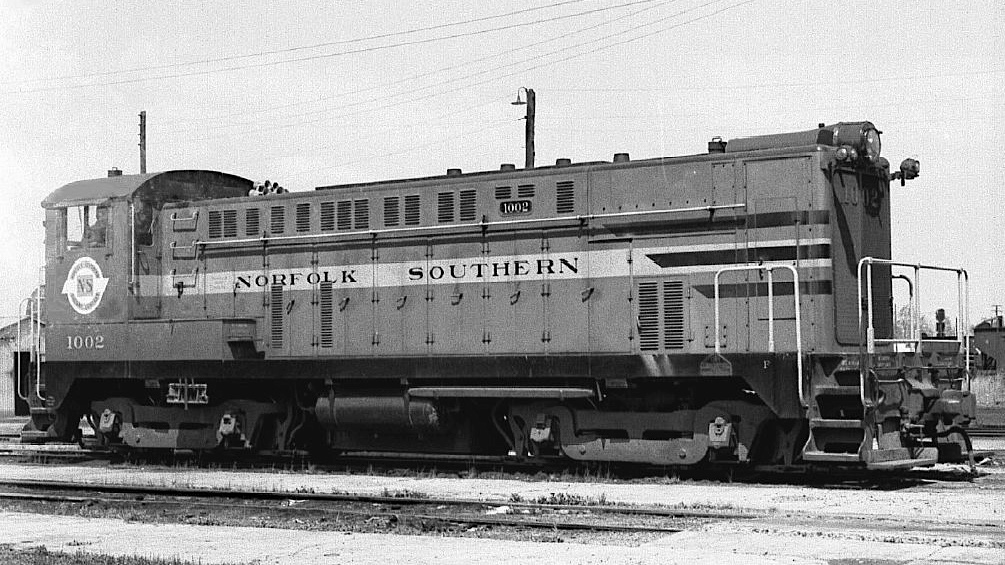 Carolina Junction, NC / May 1961 / Warren Calloway


Norfolk Southern #1002
builder:

Baldwin Locomotive Works
model:

DS-4-4-1000
type:

B-B yard switcher
built:

Jan 1947, Baldwin #72833
series:

56 produced 1946-48
engine:

Baldwin 608NA (1000 hp)
notes:
2 of 2 in 1947 Baldwin order
retired by mid 1960s
Lagniappe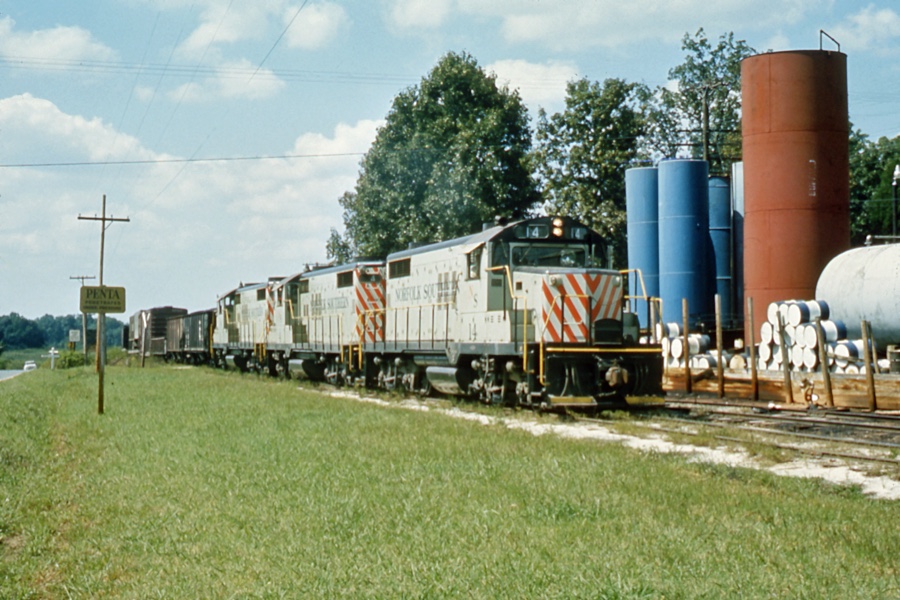 Allen, NC / Aug 1965 / collection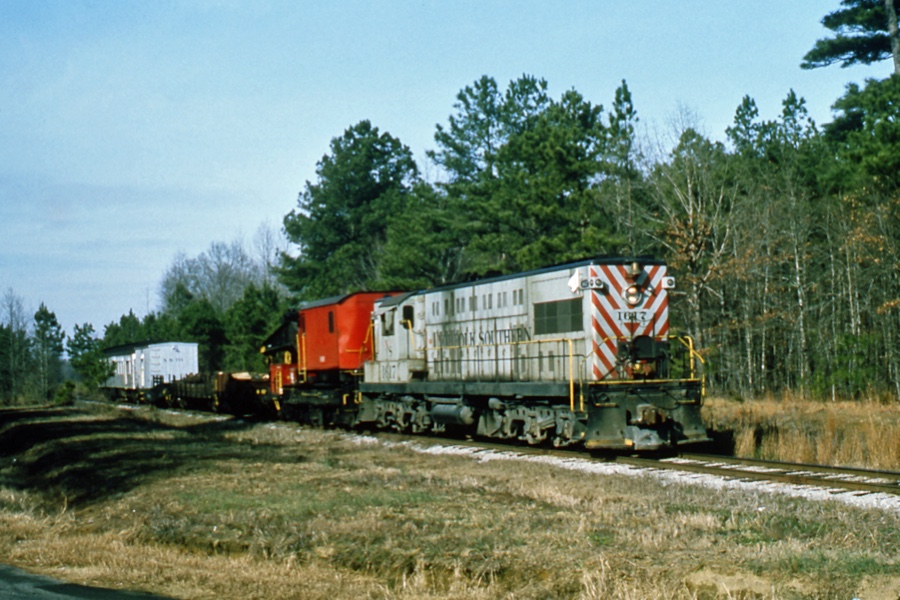 Stantonsburg, NC / Dec 1972 / collection
Links / Sources
This page was updated on 2017-08-11