New responsive screen layout coming soon!
Ohio Central System
Long-time steam locomotive aficionado, Jerry Jacobson, who was CEO and Chairman of the Board of the Ohio Central Railroad System (OCRS), decided to retire from the railroad industry. Effective as of October 1, 2008, Jerry sold his entire freight railroad interest in OCRS to Genesee & Wyoming, Inc. Included in that transfer were the ten, separate and individual railroads that comprised the greater OCRS, all track, property, modern diesel locomotives, freight cars, the Morgan Run Shop, and all other depots and structures. The control and day-to-day operation of OCRS leased railroads -- for example, the ex-PRR Panhandle Line which is still owned by the State of Ohio and the Mt. Vernon-Newark-Zanesville-Cambridge line which is still owned by CSX Transportation -- were assigned to G&W with the permission of the owners of these leased lines. Based on OCRS's low operating ratio, yearly growth and continuing profitability, it had become a prime candidate for a friendly takeover by a larger railroad. Negotiations were held with several railroads, but G&W got the nod to add the 525-mile OCRS to its list of 53 other short line railroads. However, Jerry retained ownership of all ten of his beloved steam locomotives, 22 old diesels, twelve heavyweight and twelve lightweight passenger cars, and the depot at Sugar Creek.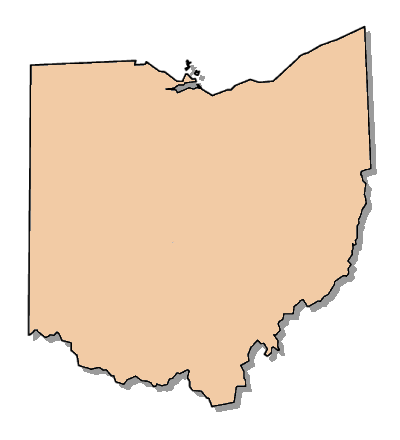 The Ohio Central Railroad System is a network of shortline railroads operating in Ohio and western Pennsylvania. Headquartered in Coshocton, Ohio, the system operates 500 miles of track divided among 10 subsidiary railroads. Most of the system's routes were divested from Class I railroads and connect industries to CSX Transportation, Norfolk Southern, and other regionals. Ohio subsidiaries include the Ohio Central (distinct from the collective system), the Columbus & Ohio River, Youngstown Belt, Warren & Trumbell, and the Youngstown & Austintown. The OHCR system was purchased by the Genessee & Wyoming shortline operator in 2008.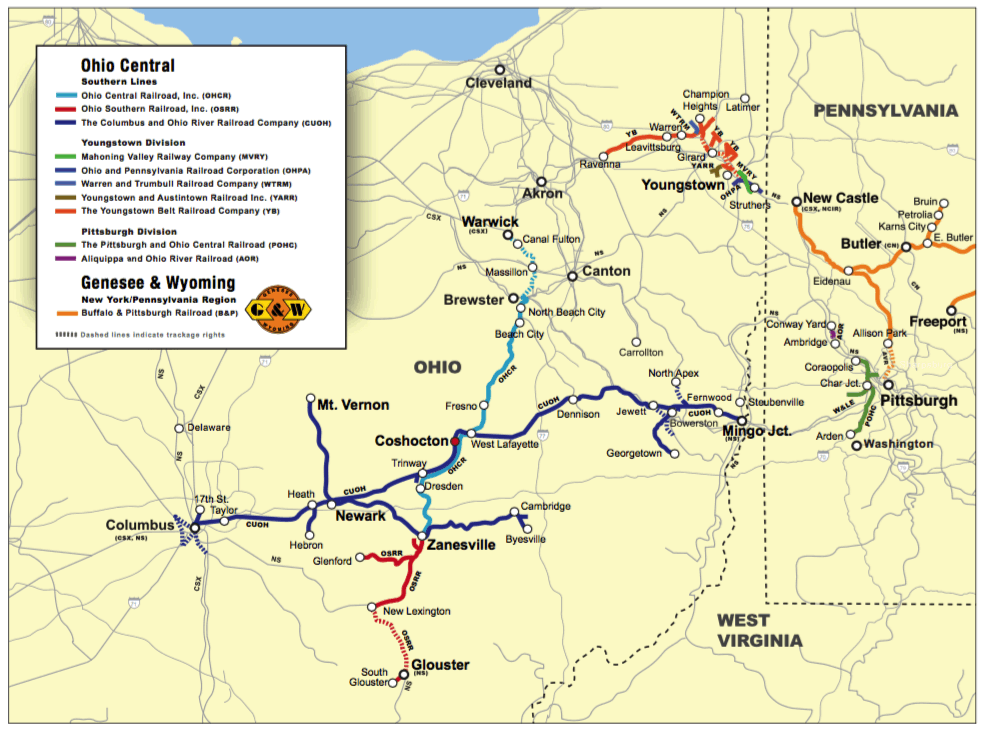 Ohio Central system map / web
See also our
Age of Steam Roundhouse
collection
Motive Power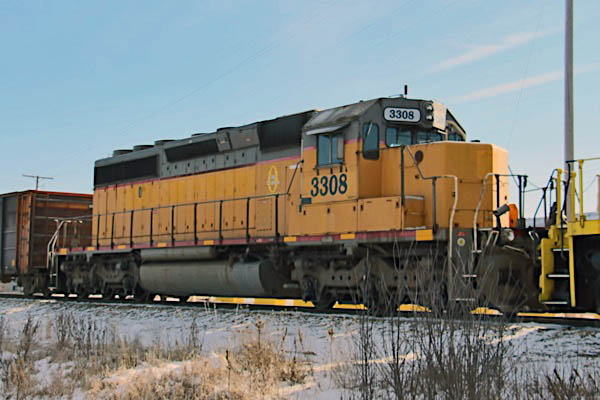 Conesville, Oh / Feb 2016 / RWH
Ohio Central #3308
builder:

Electro Motive Division

model:

SD40-2

type:

C-C heavy hauler

built:

Dec 1979, EMD #786263-11

series:

3982 produced 1972-89

engine:

EMD 645E3 (16 cyl, 3000 hp)

notes:

blt Union Pacific #3649
later renumbered UP #7882
Conesville, Oh / Feb 2016 / RWH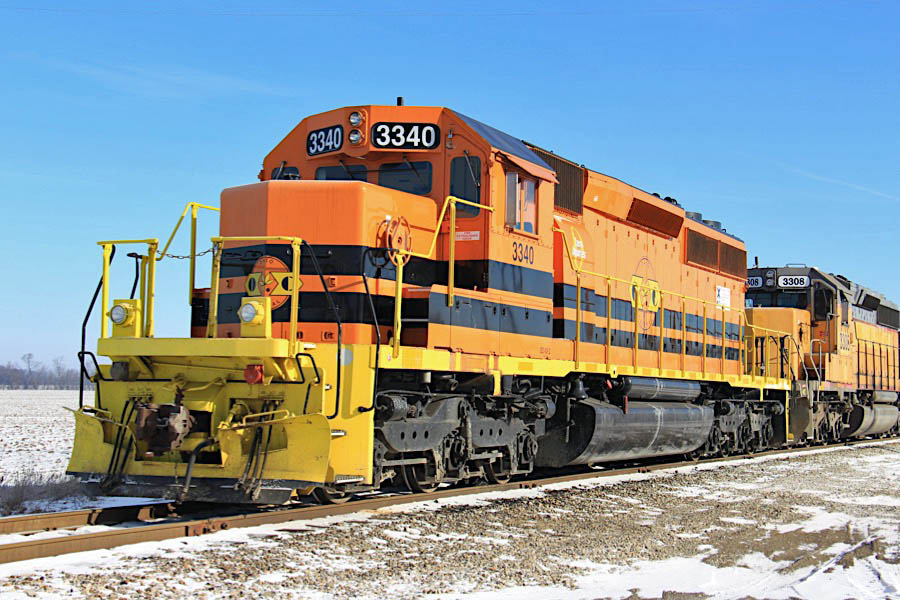 Conesville, Oh / Feb 2016 / RWH
Ohio Central #3340
builder:

Electro Motive Division

model:

SD40-2

type:

C-C heavy hauler

built:

________________

series:

3982 produced 1972-89

engine:

EMD 645E3 (16 cyl, 3000 hp)

notes:

________________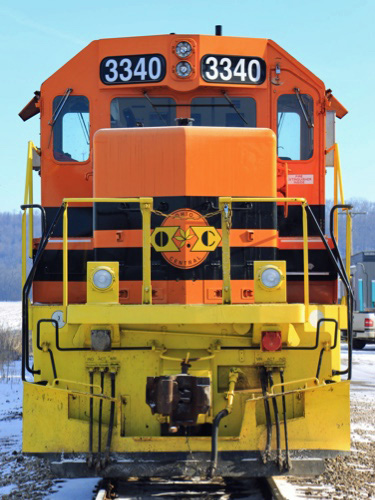 Conesville, Oh / Feb 2016 / RWH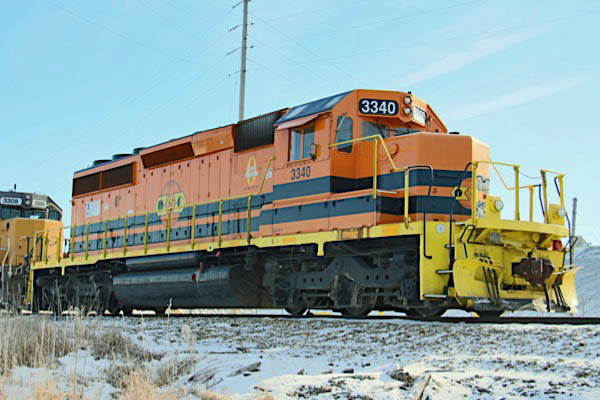 Conesville, Oh / Feb 2016 / RWH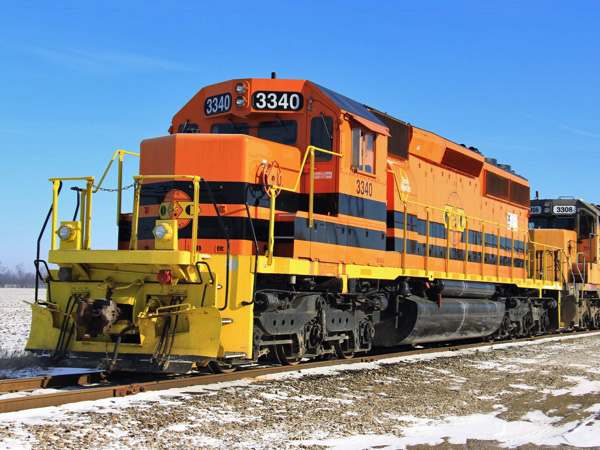 Conesville, Oh / Feb 2016 / RWH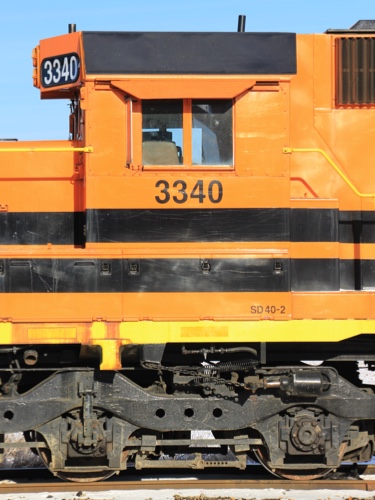 Conesville, Oh / Feb 2016 / RWH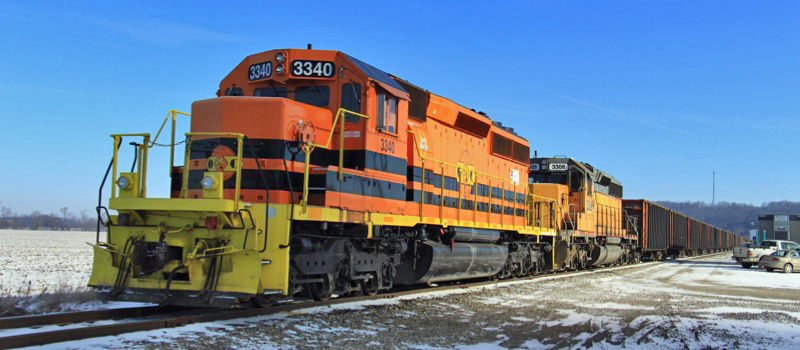 Conesville, Oh / Feb 2016 / RWH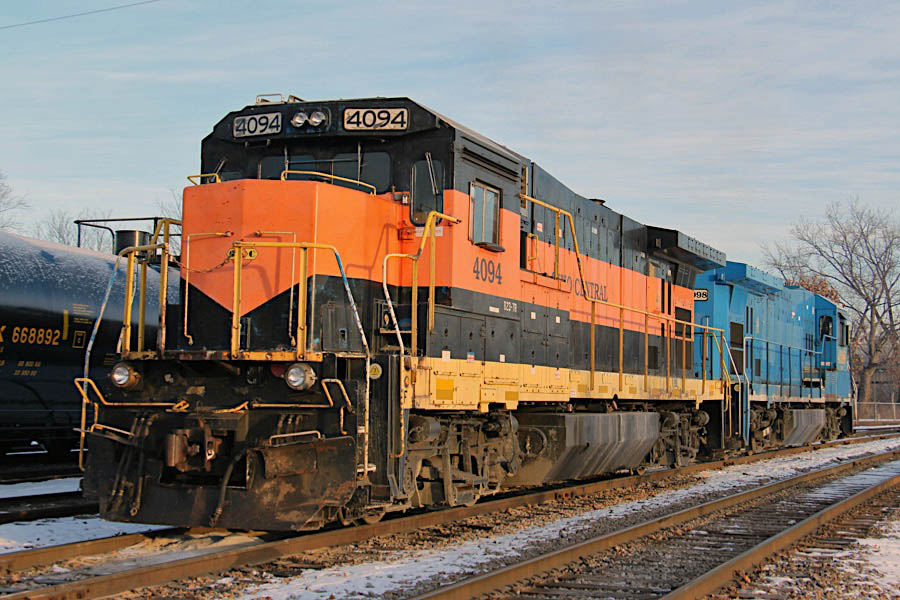 Zanesville, Oh / Feb 2016 / RWH
Ohio Central #4094
builder:

General Electric

model:

B23-7R, Super 7 rebuild

type:

B-B road switcher

built:

Jun 1972, GE #38404

series:

412 produced 1977-84

engine:

GE FDL-12 (12 cyl, 2250 hp)

notes:

blt Western Pacific U23B #2258
to Monongahela #2303, Conrail #2033
to Norfolk Southern #4094
to New Castle Industrial #4094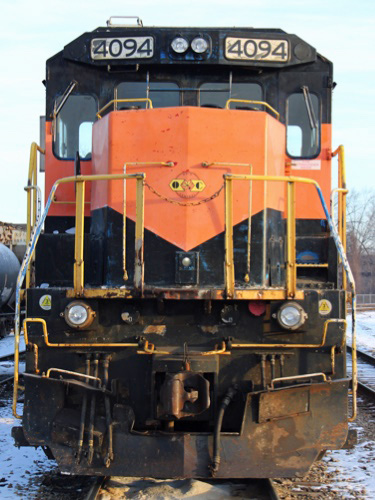 Zanesville, Oh / Feb 2016 / RWH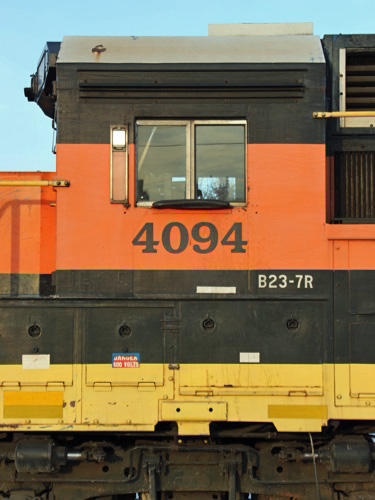 Zanesville, Oh / Feb 2016 / RWH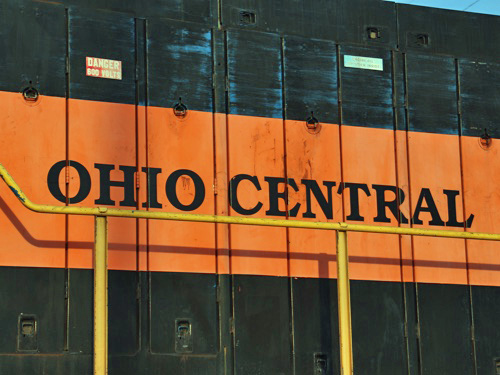 Zanesville, Oh / Feb 2016 / RWH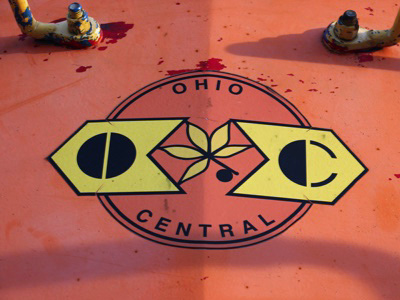 Zanesville, Oh / Feb 2016 / RWH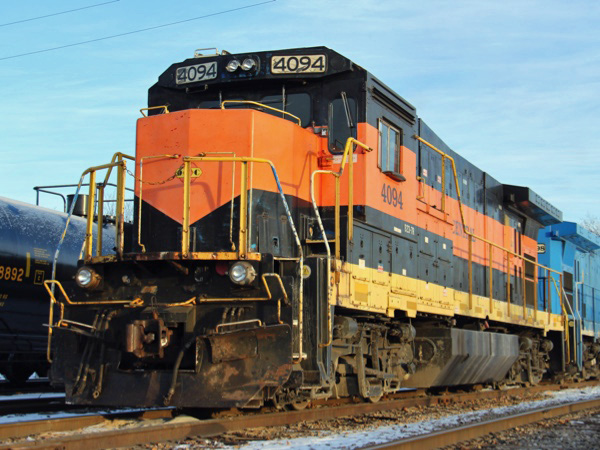 Zanesville, Oh / Feb 2016 / RWH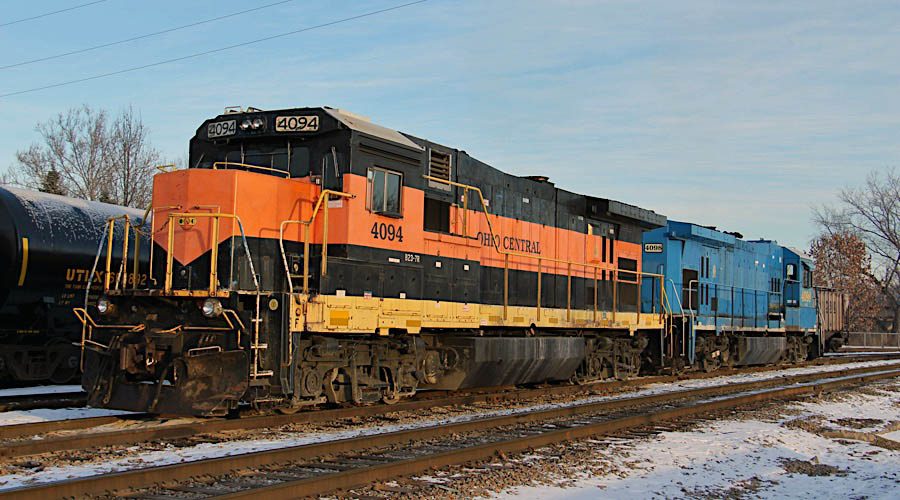 Zanesville, Oh / Feb 2016 / RWH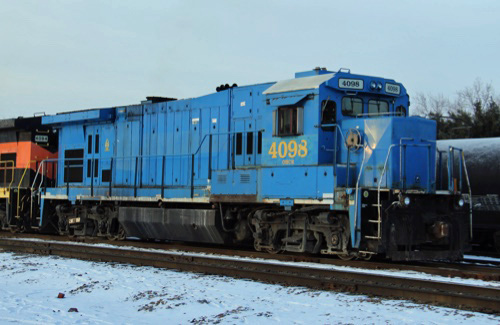 Zanesville, Oh / Feb 2016 / RWH
Ohio Central #4098
builder:

General Electric

model:

B23-7R, Super 7 rebuild

type:

B-B road switcher

built:

Jun 1972, GE #39407

series:

412 produced 1977-84

engine:

GE FDL-12 (12 cyl, 2250 hp)

notes:

blt Western Pacific U23B #2261
to Monongahela #2309, Conrail #2039
to CSX #3188, to Ohio Central #3188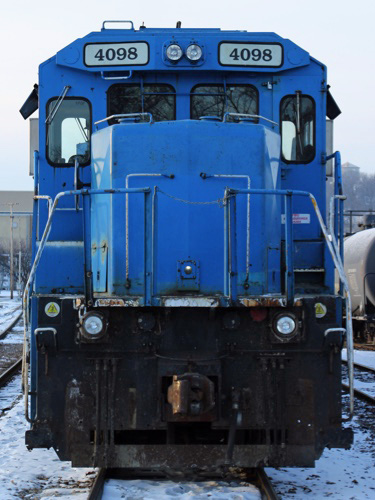 Zanesville, Oh / Feb 2016 / RWH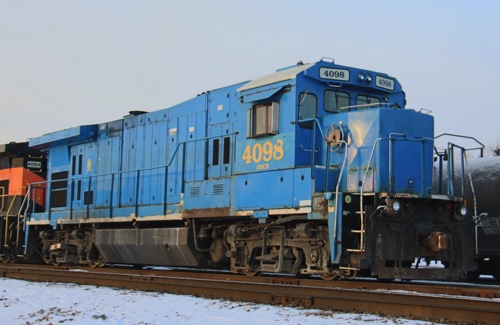 Zanesville, Oh / Feb 2016 / RWH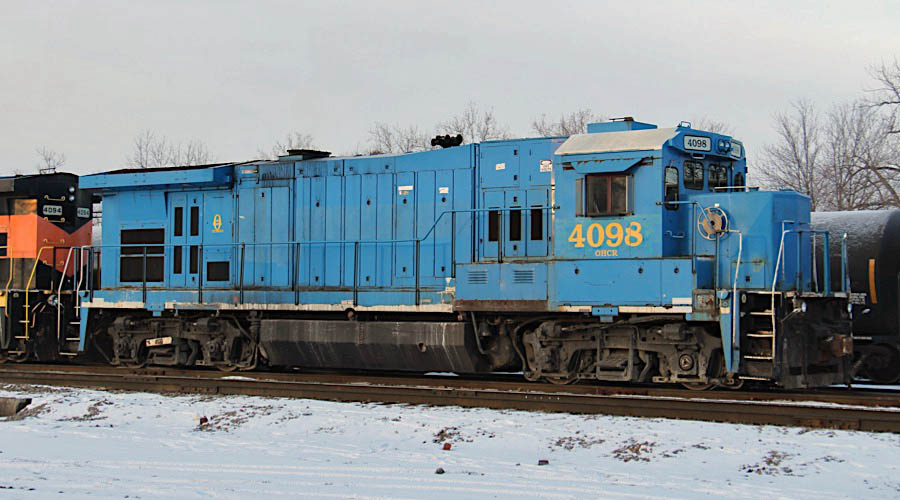 Zanesville, Oh / Feb 2016 / RWH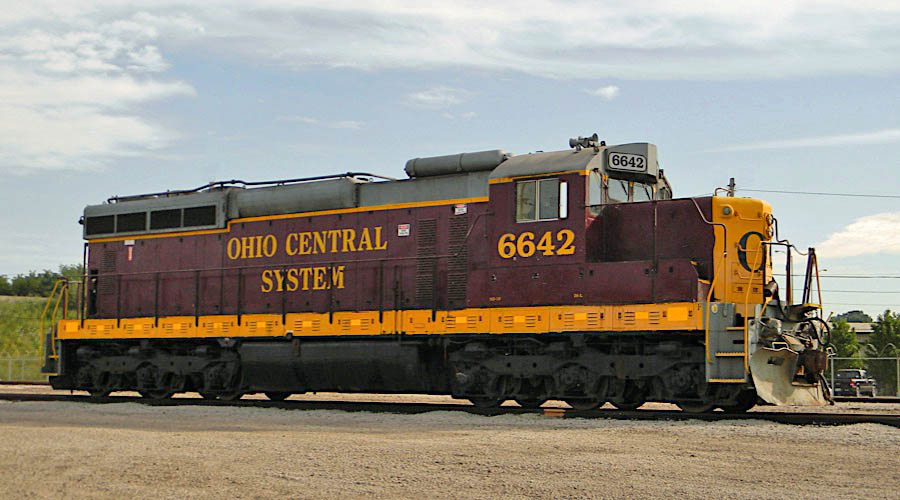 Youngstown, Oh / Dec 2010 / RWH
Ohio Central #6642
builder:

Electro Motive Division

model:

SD18m (rebuilt SD24)

type:

C-C road switcher

built:

Dec 1959, EMD #25620

series:

179 produced 1958-63

engine:

EMD 567D3 (16 cyl, 2400 hp)

notes:

blt Southern Rwy #6343
to Chicago & Northwestern #6642
to Ohio Central #6642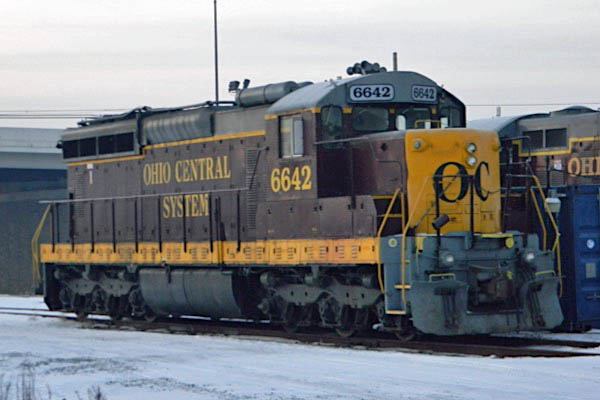 Youngstown, Oh / Jul 2014 / RWH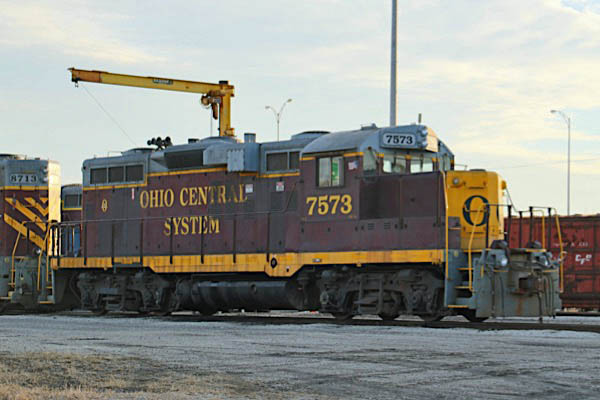 Youngstown, Oh / Jan 2016 / RWH
Ohio Central #7573
builder:

Electro Motive Division

model:

GP10 "Paducah rebuild"

type:

B-B road switcher

built:

Oct 1959, EMD #24291

engine:

EMD 567

notes:

blt Pennsylvania #7239
to Conrail #7573 after rebuild
to Ohio Central #7573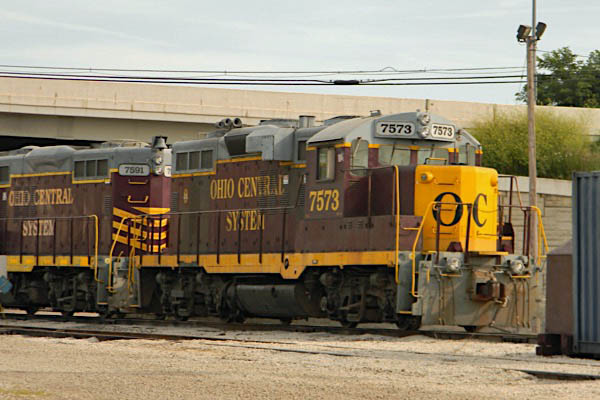 Youngstown, Oh / Jul 2014 / RWH
Coshocton, Oh / Feb 2016 / RWH
Ohio Central #8511
builder:

General Electric

model:

B39-8E

type:

B-B road switcher

built:

Oct 1987, GE #45420

series:

145 produced after 1984

engine:

GE 7FDL-16 (16 cyl, 3900 hp)

notes:

blt for Locomotive Management Services
leased to Burlington Northern
later to Ohio Central #8511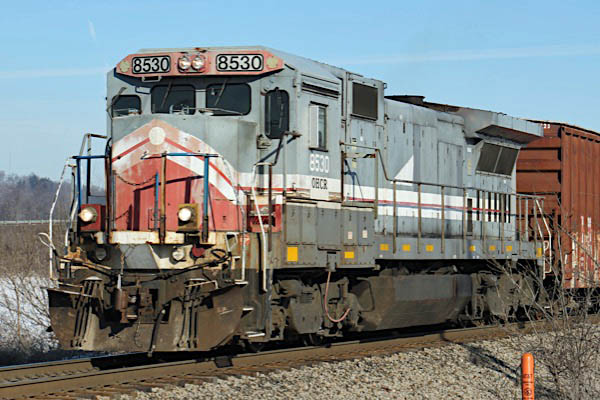 Coshocton, Oh / Feb 2016 / RWH
Ohio Central #8530
builder:

General Electric

model:

B39-8E

type:

B-B road switcher

built:

Oct 1987, GE #45439

series:

145 produced after 1984

engine:

GE 7FDL-16 (16 cyl, 3900 hp)

notes:

blt for Locomotive Management Services
leased to Burlington Northern
later to Ohio Central #8530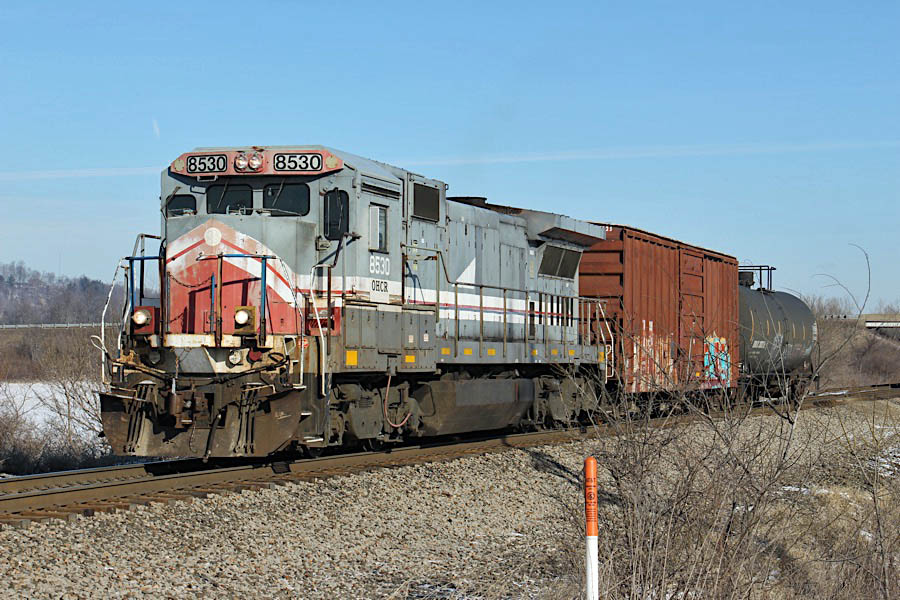 Coshocton, Oh / Feb 2016 / RWH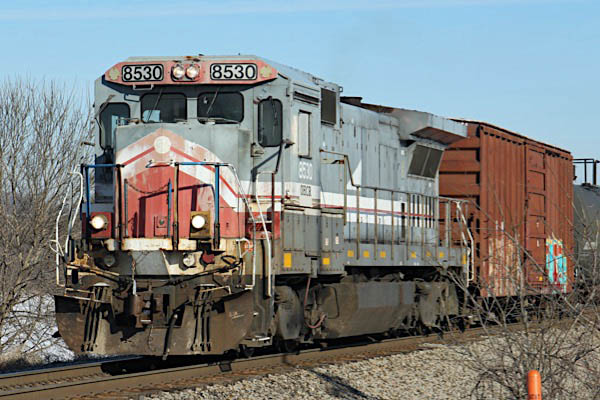 Coshocton, Oh / Feb 2016 / RWH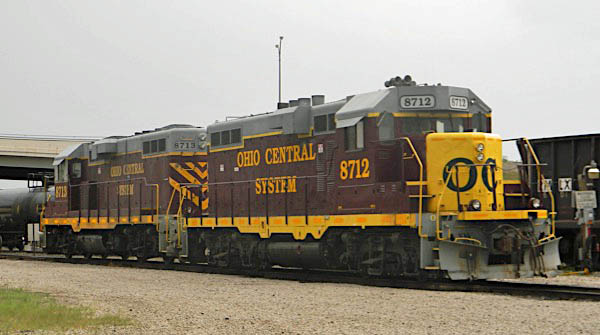 Youngstown, Oh / Jul 2012 / RWH
Ohio Central #8712
builder:

Electro Motive Division

model:

GP11 "Paducah rebuild"

type:

B-B road switcher

built:

Aug 1956, EMD #22137

engine:

EMD 567

notes:

blt New Haven GP9 #1227
to Penn Central #7247, later Conrail
to MBTA #7557
to Illinois Central Gulf #8712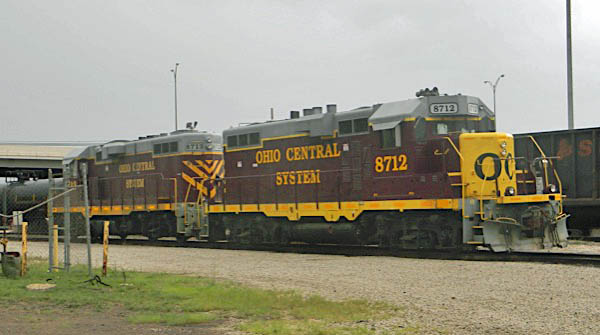 Youngstown, Oh / Jul 2012 / RWH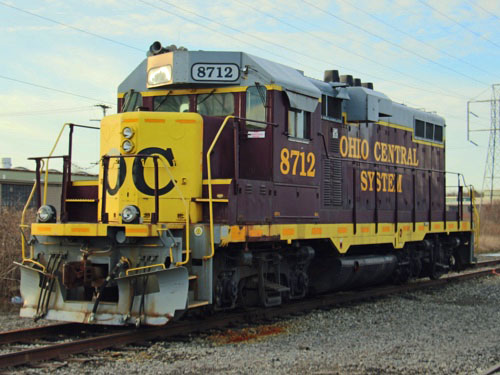 Austintown, Oh / Jan 2016 / RWH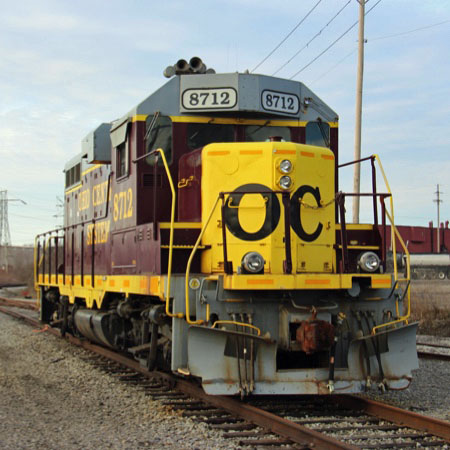 Austintown, Oh / Jan 2016 / RWH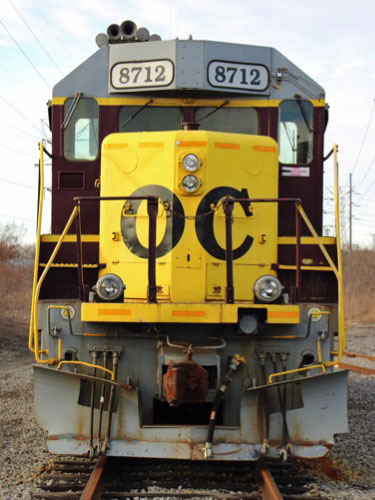 Austintown, Oh / Jan 2016 / RWH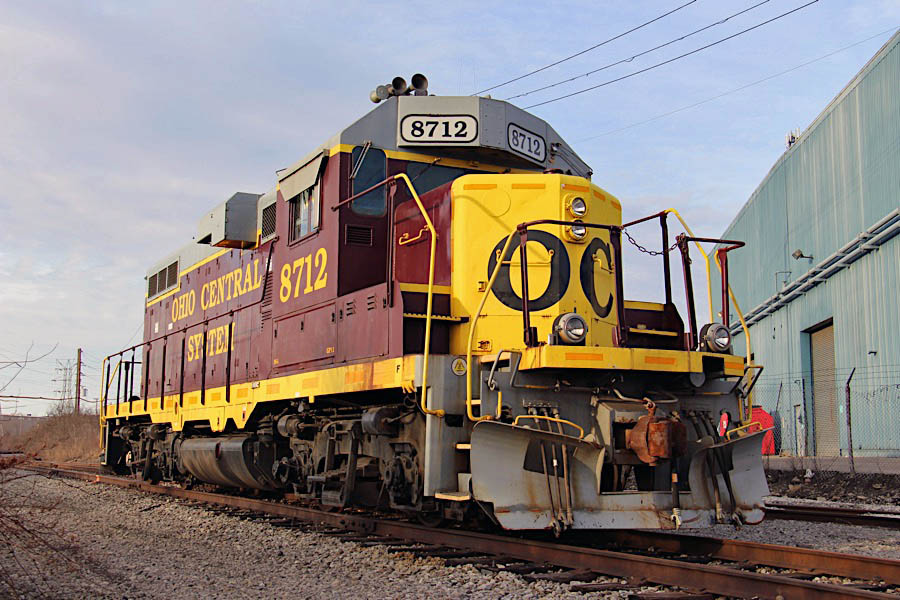 Austintown, Oh / Jan 2016 / RWH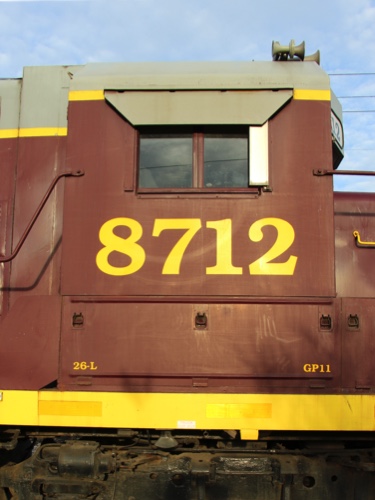 Jan 2016 / RWH
Road Slugs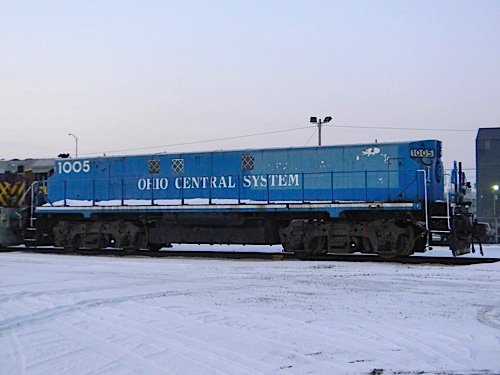 road slug / Youngstown, Oh / Dec 2010 / RWH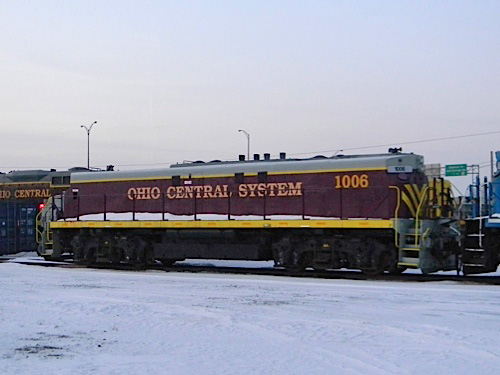 road slug / Youngstown, Oh / Dec 2010 / RWH
Rolling Stock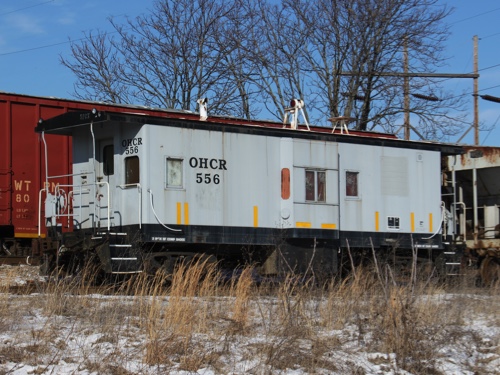 Coshocton, Oh / Feb 2016 / RWH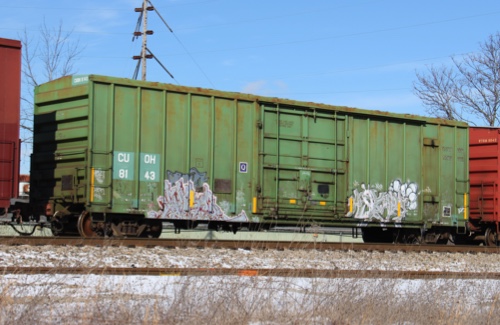 Coshocton, Oh / Feb 2016 / RWH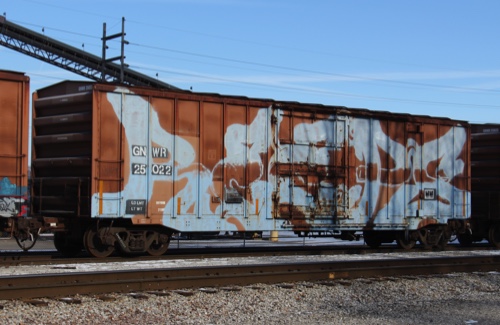 Coshocton, Oh / Feb 2016 / RWH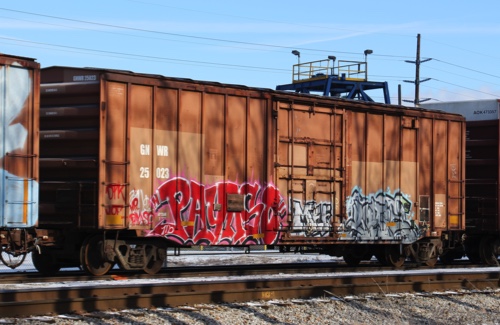 Coshocton, Oh / Feb 2016 / RWH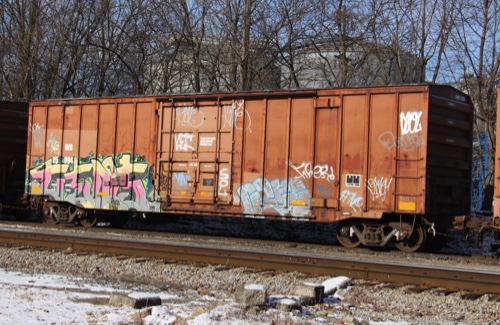 Coshocton, Oh / Feb 2016 / RWH
Sugar Creek office car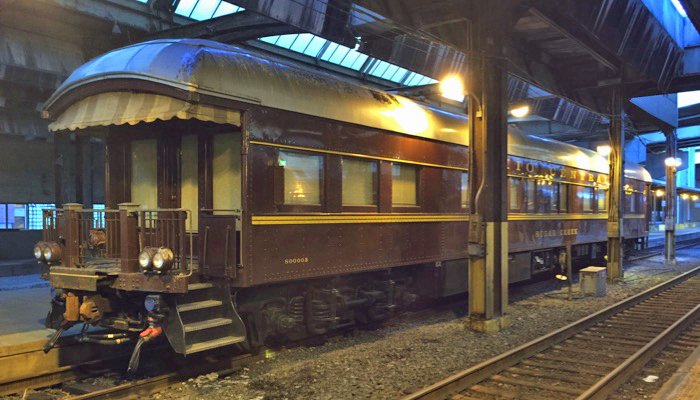 business car / Pittsburgh, Pa / Apr 2016 / RWH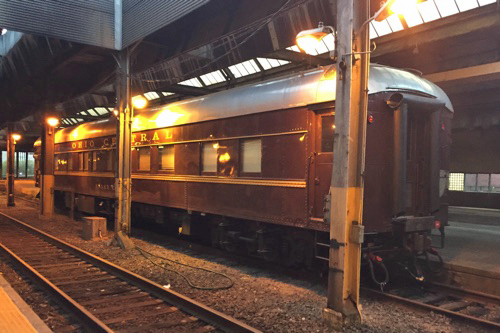 Pittsburgh, Pa / Apr 2016 / RWH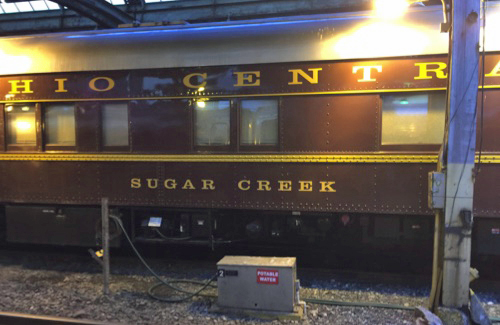 Pittsburgh, Pa / Apr 2016 / RWH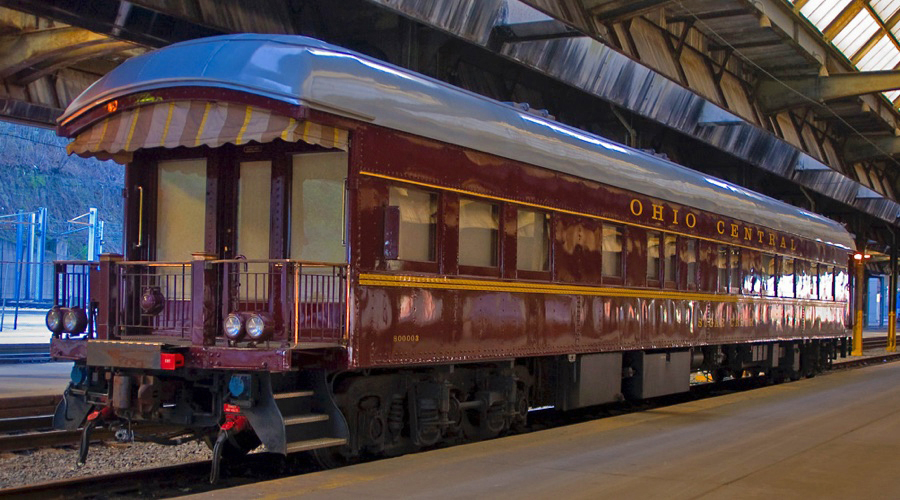 Pittsburgh, Pa / John Ireland
Locations
Links / Sources
This page was updated on 2016-04-24