New responsive screen layout coming soon!
Meridian & Bigbee Railroad
The Meridian & Bigbee River Railway [was] granted a charter on January 23, 1917 to "construct a railroad from Meridian, Mississippi to the Tombigbee River" and so let a contract on December 24, 1926 to construct this railroad. Work was begun and on April 16, 1928 the road was put in operation from Meridian to Cromwell, Alabama, a distance of 29.87 miles to a connection with the Alabama, Tennessee & Northern Railroad. After many years of trials and further tribulations this road was completed from Cromwell to Myrtlewood, Alabama, crossing the Tombigbee River and connecting with the Louisville & Nashville Railroad, and put into full operation on October 15, 1935.
Mick Nussbaum, History of Meridian Railroads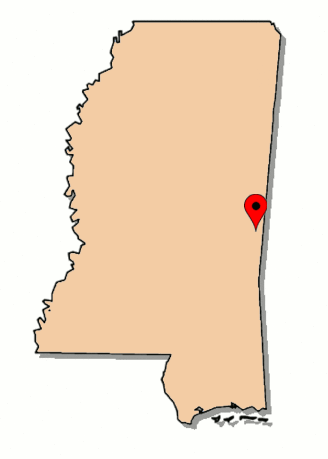 The Meridian & Bigbee Railroad Company was the reorganized name for the Meridian & Bigbee River Railway, originally incorporated in 1917. By 1928 the road had built east from Meridian, Mississippi, across the state line eastward to Cromwell, Alabama, and was later completed to Myrtlewood by 1935. In the diesel era, the 51-mile shortline was owned by the James River Corporation and moved pulp, chemicals, and paper products. Currently owned by the Genesee & Wyoming shortline system, the line is now known as simply the M&B Railroad (MNBR).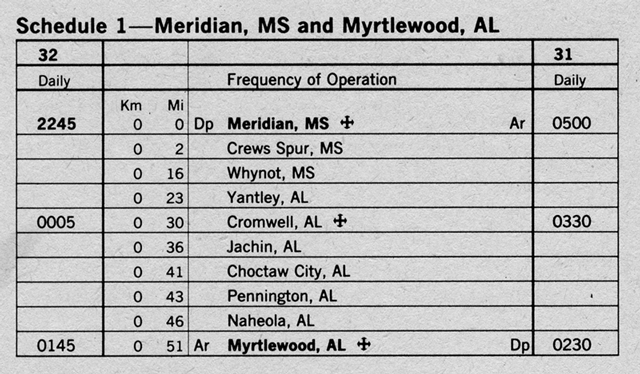 1988 Official Guide route listing
Motive Power
Meridian, Ms / Sep 1951 / collection
Meridian & Bigbee #3729
builder:

_________

arrangement:

2-6-0 Mogul

built:

_________

fuel:

coal/water

notes:

ex Illinois Central #3729
scrapped 1953
Meridian, Ms / 1982 / collection
Meridian & Bigbee #101
builder:

Electro Motive Division

model:

GP7

type:

B-B road switcher

built:

Aug 1952, EMD #17428

series:

2610 produced 1949-54

engine:

EMD 567B (16 cyls. 1500 hp)

notes:

blt Meridian & Bigbee #101
later ConAgra Grain #101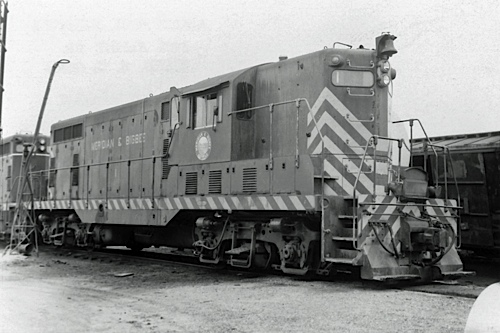 Meridian, Ms / Sep 1967 / collection
Meridian, Ms / Feb 1966 / collection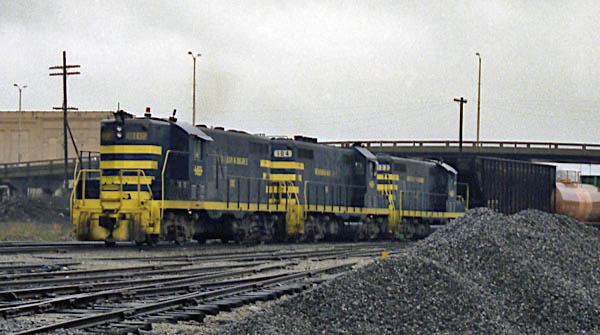 Meridian, Ms / 1982 / collection
Meridian & Bigbee #102
builder:

Electro Motive Division

model:

GP9

type:

B-B road switcher

built:

1957

series:

3436 produced 1954-59

engine:

EMD 567C (16 cyl. 1750 hp)

notes:

_________
Meridian, Ms / Jan 1989 / RWH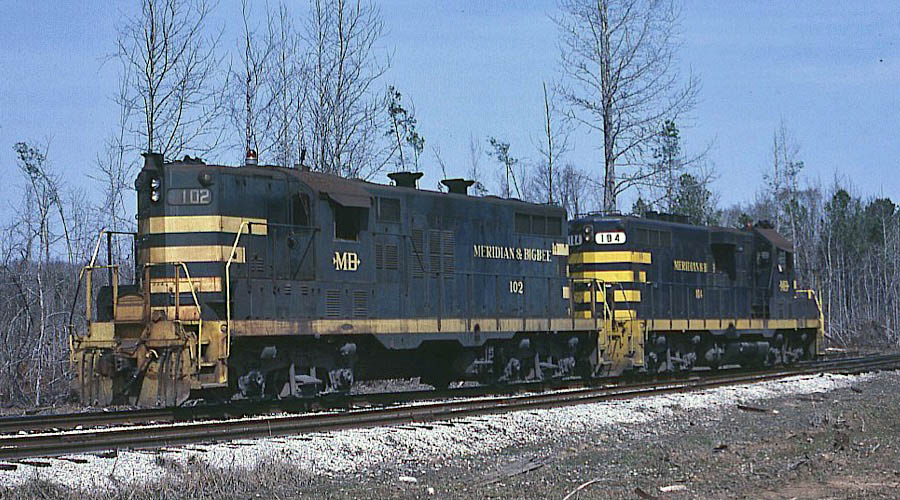 Meridian, Ms / Jul 1964 / collection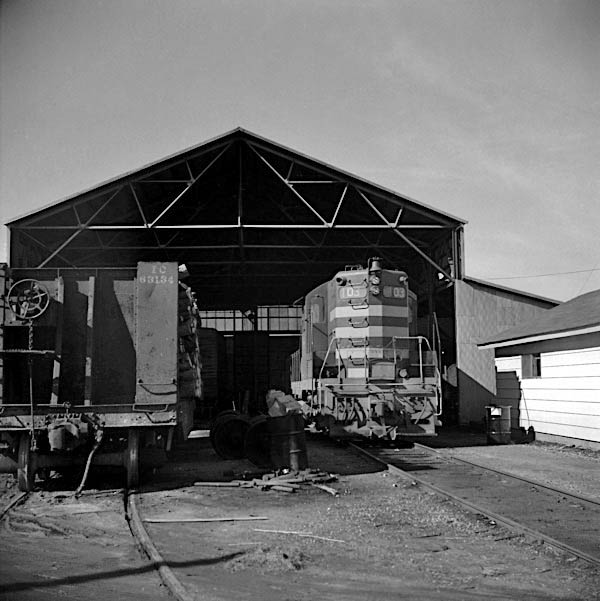 Meridian, Ms / Feb 1966 / collection
Meridian & Bigbee #103
builder:

Electro Motive Division

model:

GP7

type:

B-B road switcher

built:

Mar 1951, EMD #14009

series:

2610 produced 1949-54

engine:

EMD 567B (16 cyls. 1500 hp)

notes:

ex Illinois Central #8961
to Meridian & Bigbee #103, 1964
later chop-nosed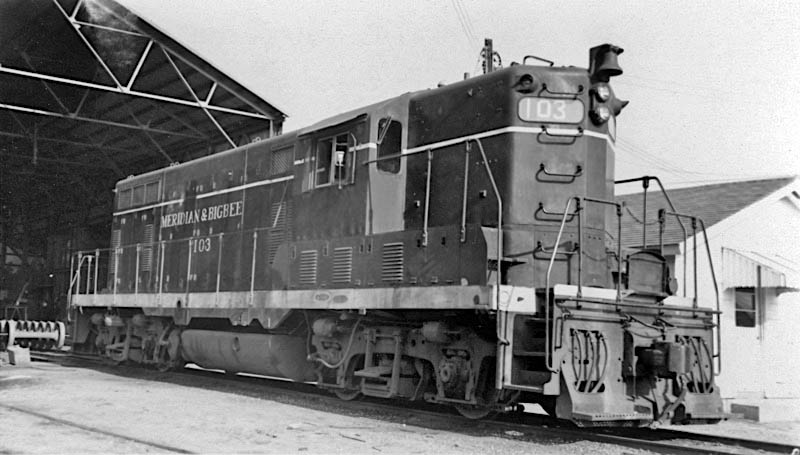 Meridian, Ms / Sep 1988 / RWH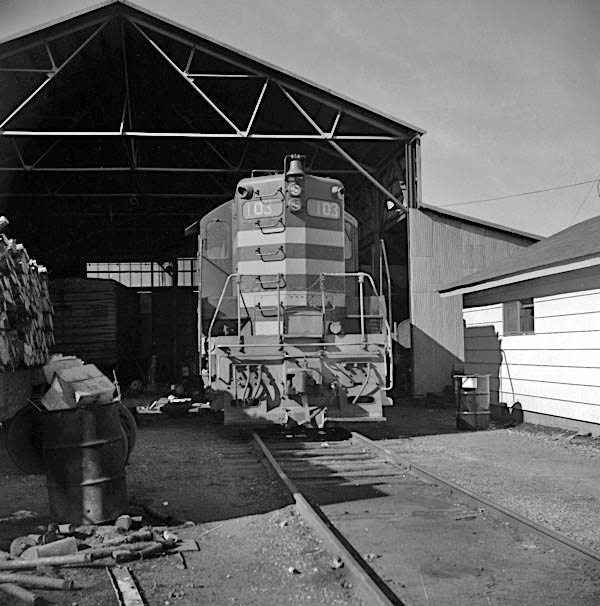 Meridian, Ms / Jan 1971 / JCH
Meridian, Ms / 1982 / collection
Meridian & Bigbee #104
builder:

Electro Motive Division

model:

GP9

type:

B-B road switcher

built:

Sep 1957, EMD #23600

series:

3436 produced 1954-59

engine:

EMD 567C (16 cyls. 1750 hp)

notes:

blt New York Central #6067
later chop-nosed, new cab
Meridian, Ms / Sep 1988 / RWH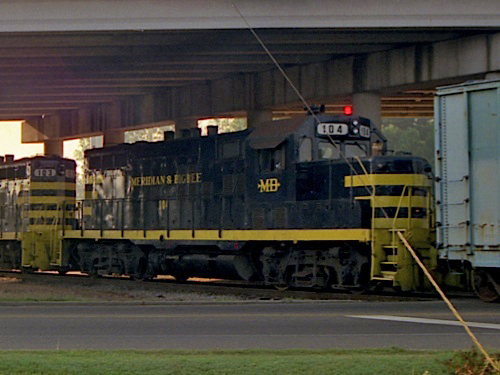 Meridian, Ms / Sep 1988 / RWH
Pennington, Al / 1982 / collection
Meridian & Bigbee #105
builder:

Electro Motive Division

model:

GP7

type:

B-B road switcher

built:

Aug 1951, EMD #14740

series:

2610 produced 1949-54

engine:

EMD 567B (16 cyls. 1500 hp)

notes:

ex Tennessee, Alabama & Georgia #709
ex Southern #8236
Meridian, Ms / Apr 1986 / collection
Meridian & Bigbee #106
builder:

Santa Fe Cleburne shops

model:

CF7 rebuild

type:

B-B road switcher

rebuilt:

Aug 1977

series:

233 rebuilt 1970-78

engine:

EMD 567B (16 cyls. 1500 hp)

notes:

ex Santa Fe #2442
later South Kansas & Oklahoma #106
Meridian, Ms / Apr 1986 / collection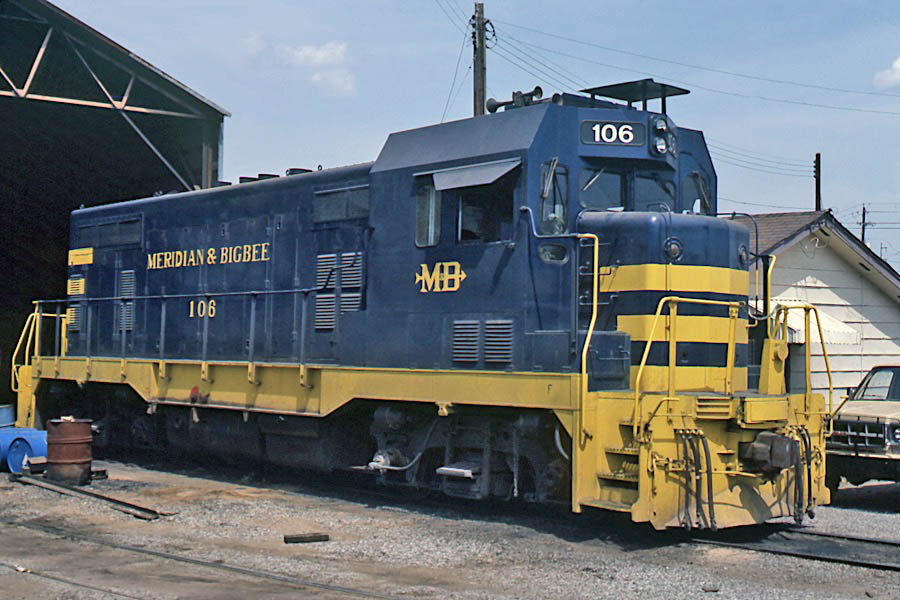 Meridian, Ms / Apr 1986 / collection
Rolling Stock
caboose / Meridian, Ms / Jan 1971 / JCH
caboose / Meridian, Ms / 1986 / collection
caboose / Meridian, Ms / May 1982 / collection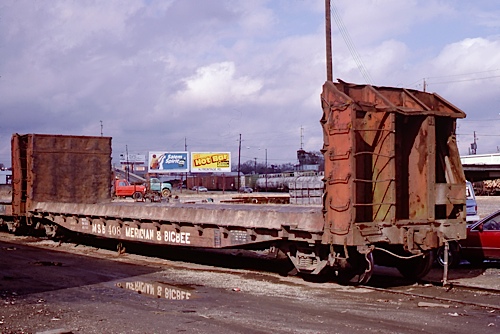 pulpwood rack / Meridian, Ms / 1986 / collection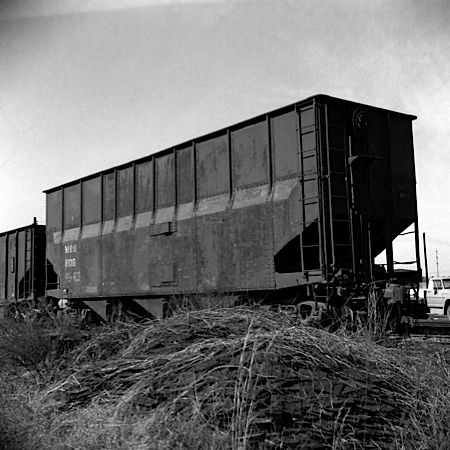 woodchip hopper / Meridian, Ms / Jan 1971 / JCH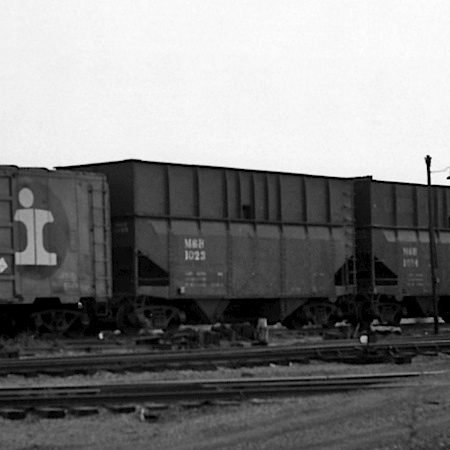 woodchip hopper / Meridian, Ms / Jun 1970 / JCH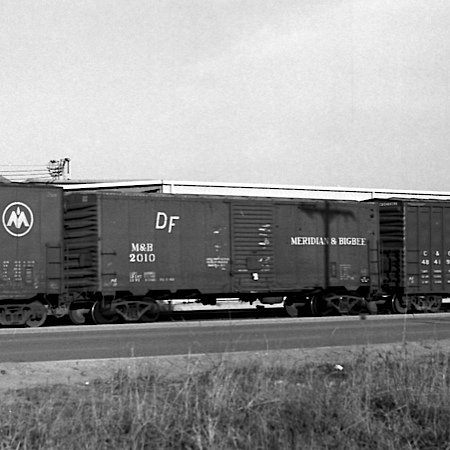 woodchip boxcar / Meridian, Ms / Mar 1972 / JCH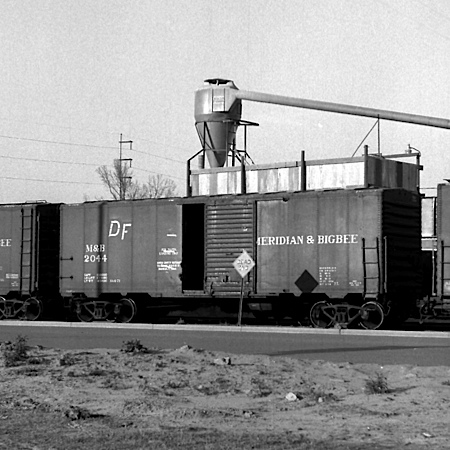 woodchip boxcar / Meridian, Ms / Mar 1972 / JCH
Locations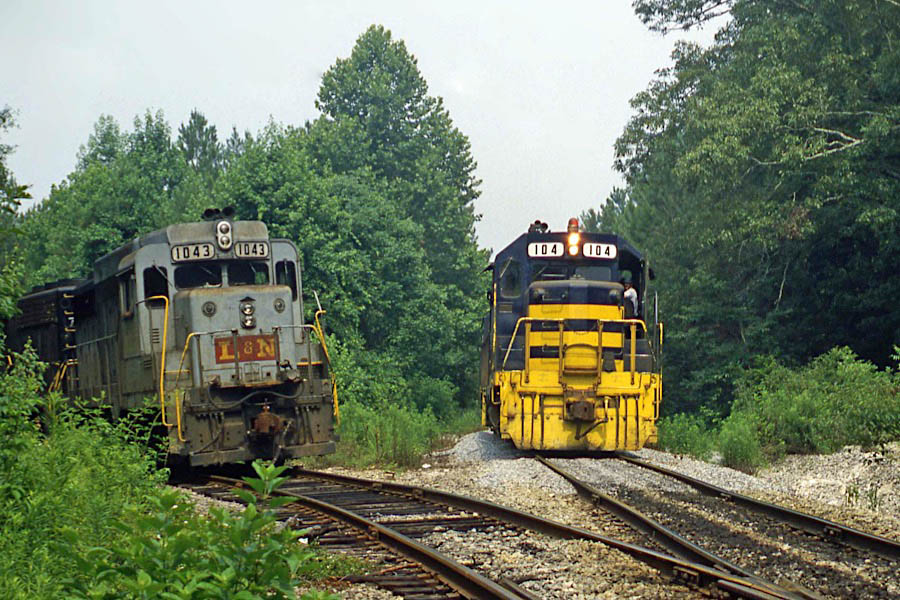 Meridian, Ms / Jan 1971 / JCH
Lagniappe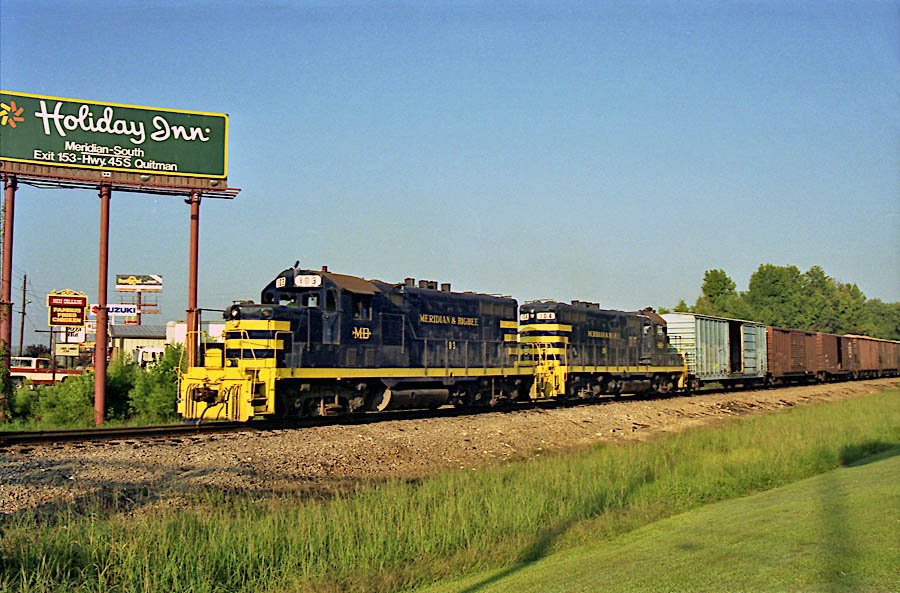 Meridian, Ms / Sep 1988 / RWH
Meridian, Ms / Sep 1988 / JCH
Meridian, Ms / Jan 1989 / RWH
Links / Sources